When talking about great Italian food, there is no way around pasta. The variety of delicious pasta and pasta toppings is breathtaking. And it might be intimidating when it comes to combining pasta with wine. In this article, we will talk about how to find the best pasta and wine pairings.
What Is Pasta?
Pasta is the central pillar of Italian cuisine and a part of everyday meals as well as special occasion dinners. Although it's rich in calories, it's considered light and healthy.
Pasta is made from durum wheat flour, water, and eggs. There are more than 200 forms and shapes around. The most popular among them are Spaghettis which are long, thin strands. Other well-known shapes are:
Fettucini: Less long and much wider than Spaghetti.
Fusilli: Short and thick spirals that might remind you of a corkscrew.
Lasagna Sheets: Thin, rectangular sheets of pasta that are large enough to fill a casserole.
Penne: Small, cylindrical, and hollow noodles, often used in salads.
Macaroni: Small, hollow, and -in many cases- curved tubes.
Besides traditional wheat pasta, you can also find newer types produced from other ingredients. Gnocchi, for instance, are made from potatoes. And you can also find many vegan variations made from lentils, peas, or other vegetables.
The History of Pasta
Pasta has been the backbone of Italian cuisine for centuries. Its origin is controversial, though.
Some people argue that the Romans already knew pasta during Augustus's reign in the 1st century BC. One witness for this claim is the famous poet Quintus Horatius Flaccus who mentioned a meal called "Lagana" in his records. Historians believe that this dish made from fried layers of dough was an early version of modern lasagna.
Another myth credits Marco Polo for the discovery of pasta during his journey to China in the 13th century. In his diaries, he noted a tree that the locals harvested to produce pasta-like foods. Proponents of this theory interpreted this observation as evidence for the Asian origin of Italian pasta.
No matter the origin, pasta quickly became popular in Italy. The production of dried pasta in the 1400s contributed massively to its upcoming because it was much easier to store. Another critical factor was the invention of pasta machines in the 17th century.
In the following centuries, traders and migrants made pasta famous in other parts of Europe and in America. Today, it's one of the world's most popular and most versatile food items.
The Best Wine and Pasta Pairings
Italy is not only famous for pasta but also for wine. And together, the two are essential components of every Italian dinner. That doesn't mean that you should combine any Italian wine with any pasta dish, though. Some wine and pasta pairings work way better than others.
Actually, the type of pasta isn't the deciding factor for finding the right wine. Whether you serve Spaghettis, Fettucini, or Penne doesn't matter because they don't differ significantly in taste. Thus, you should base your wine choice on the toppings and the sauce instead.
For creating the best pasta and wine combinations, follow these simple rules:
Light pasta dishes go with light-bodied wines. And vice versa, bolder meals go with full-bodied wines.
As a general rule, red sauces pair well with red wines, while white sauces are better with white wines.
Fruity sauces are best with fruity wines.
Acidic wine is an excellent counterplayer for creamy and cheese sauces.
Sparkling wine helps clean the palate and reduces the heat of very spicy preparations.
These guidelines are a good starting point for finding the best wine for your pasta dish. There are some exceptions to the rules, though. So it makes sense to discuss some specific pasta and wine pairings in detail.
More Italian Food and Wine Pairings: THE BEST ITALIAN FOOD AND WINE PAIRINGS
Wine with Pasta Napoletana
Tomatoes are the basis for many pasta sauces. The most simple of these sauces is called Napoletana (also: Napoli sauce). It contains onions, garlic, basil, olive oil, sugar, salt, pepper, and, of course, tomatoes. Logically, the tomatoes dominate the sauce, giving it a fruity flavor with perceivable acidic notes. Pasta Napoletana is typically served with grated Grana Padano cheese.
The best wine pairing for Napoletana dishes is a dry, medium-bodied red wine. For instance, Sangiovese and Tempranillo are excellent choices. Their fruity flavors are a great add-on to the sauce, and they have just the right acidity level to match the tomatoes' acidity. Another good pairing is Negroamaro. It's relatively high in alcohol but nevertheless a delicious wine for pasta Napoletana.
More Details on Negroamaro: NEGROAMARO WINE – THE DARK BEAUTY FROM ITALY
Wine with Pasta Bolognese
Bolognese sauce is many people's favorite pasta topping. Just like Napoletana, it's a tomato-based sauce. But with ground meat made from pork or beef, it's significantly bolder. Besides, traditional Bolognese contains chopped carrots, celery, and a splash of dry white wine.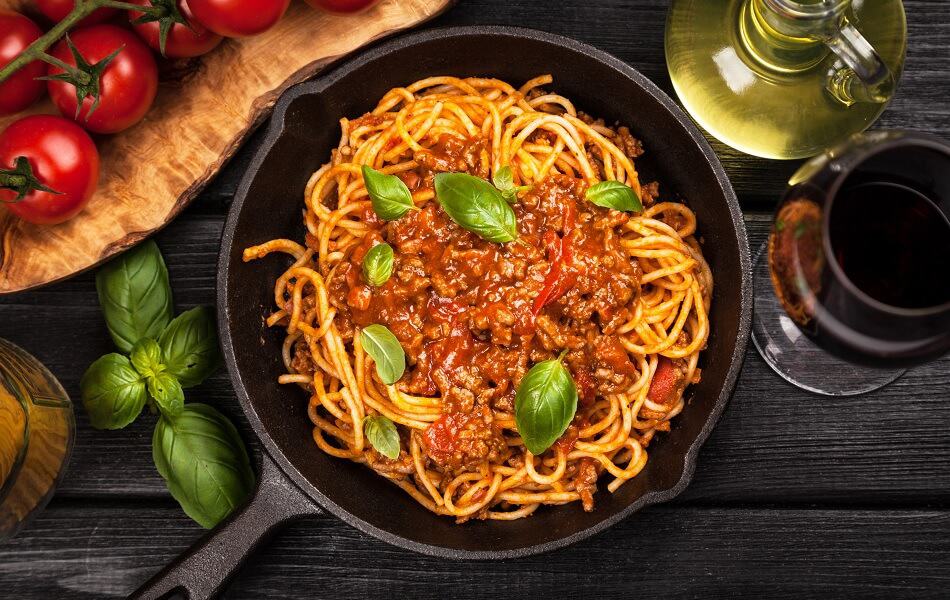 Spaghetti Bolognese and Red Wine
All the wines that work with tomato sauces work with Bolognese as well. So feel free to try Sangiovese (including Chianti), Negroamaro, or Tempranillo. As the meat sauce is slightly heavier than Napoletana, you can also go for bolder wines. For example, pick a Primitivo, a Zinfandel, or a Montepulciano wine.
If you follow the traditional recipe and use white wine as an ingredient, you can also drink white wine with it. A good choice is a dry Italian style like Verdicchio.
By the way: The same wine pairings are fine for pasta with meatballs or sausages.
Wine with Pasta All'Arrabbiata
Another tomato-based dish is Pasta All Arrabbiata. It's a variation of the Napoletana sauce with more garlic and additional red chilis. Consequently, it's very spicy and the right topping for everyone who likes hot food.
To match this heat, you can choose one of the red wines we've already discussed. However, sparkling wines might work better. Their bubbles help clean your palate after every bite, so they reduce the heat perceivably. In particular, off-dry and sweet styles are fantastic matches because their sweetness balances out the meal's spicy notes. Try a red Lambrusco or a white Asti.
More Details on Asti: WHAT IS ASTI AND WHY SHOULD YOU TRY IT?
Wine with Lasagna
Lasagna is one of the most iconic Italian dishes, and it's loved all over the world. The original recipe is called Lasagna al Forno (English: Lasagna from the oven). It's made with lasagna noodles, bolognese sauce, bechamel, ricotta cheese, and various herbs such as oregano and basil. With these ingredients, lasagna is a rich and heavy dish with many different flavors.
To stand this bold meal, you need a red wine with high acidity and tannins levels. With these characteristics, they can cut through the creamy consistency of meat, bechamel sauce, and cheese. Remarkable wines that belong to this category are Chianti Classico as well as Chianti Riserva wines. Due to extensive aging in oak barrels, they develop complex flavor profiles and an outstanding balance of tannins, acidity, alcohol, and fruity and earthy aromas.
Another great option is a Spanish Rioja wine. It's a bit bolder than Chianti with strong acidity and tannins and delicious notes of black fruits.
More Wine and Lasagna Pairings: DINING LIKE IN ITALY: HOW TO PAIR LASAGNA AND WINE
Wine with Pasta Carbonara
Pasta Alla Carbonara is another popular preparation. It comes from the Lazio region with the Italian capital Rome in its center. Carbonara is a white sauce made from eggs, Pecorino cheese, and Pancetta, a cured meat from pork belly. It's typically seasoned with only salt and pepper. Due to its ingredients, the sauce features a complex range of flavors. The cheese is salty and quite powerful, the Pancetta is fatty and chewy, and the egg yolks add a subtle sweetness. With plenty of pepper, this combination makes Carbonara a rich topping for pasta, although it's lighter than most tomato-based sauces.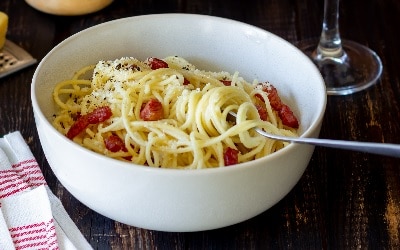 White wine is a great choice to match this flavor profile. It should have a good acidity level to cut through the sauce and especially the pork. Try pairing the pasta with a white wine from the same region: Lazio. In particular,
Pinot Grigio
or
Malvasia-Trebbiano blends
are great matches. Alternatively, you can pair Carbonara with wines from neighboring areas such as Campania. Try those from the
Fiano di Avellino
or
Greco di Tufo
appellations.
More Details on Pinot Grigio: PINOT GRIGIO AND PINOT GRIS – ARE THEY THE SAME?
If you're into rosé wine, you can drink an Italian Rosato with pasta Carbonara. Wines from the Abruzzo region are great matches.
Wine with Pasta Alfredo
Like Carbonara, Alfredo sauce is a white pasta sauce. Alfredo de Lelio, a restaurant owner from Rome, created it in the 1910s as a light alternative to tomato sauces. He used butter, cream, and Parmesan cheese, together with garlic and several herbs. With these ingredients, it's a creamy yet light sauce. But as it doesn't contain bacon, it isn't as fatty or salty as Carbonara.
Chardonnay is a great wine pairing for Alfredo pasta. This dry and full-bodied white wine is similarly buttery like the dish. It comes with medium acidity and an average alcohol level which are just right to stand the creamy sauce without overpowering it. Try a Chardonnay from California. Especially vintners in Napa Valley and Sonoma Valley produce these styles.
Red wine lovers should go for light Pinot Noirs. These dry wines let the meal's flavors shine while adding some fruity nuances. Make sure to pick an unoaked Old World style, for instance, from the Côte de Nuits appellation in the Burgundy region.
More Details on Burgundy Wines: WHY IS BURGUNDY WINE SO GOOD (AND SO EXPENSIVE)?
Wine with Mac and Cheese
A staple in American cuisine is Macaroni and Cheese (or short: Mac and Cheese). While historians tracked this meal's history back to Italian recipes from the 13th century, they credit its fame in the United States to President Thomas Jefferson. According to a widespread theory, he tried Mac and Cheese when visiting Italy. And he loved it so much that he imported a pasta machine so that he could enjoy it regularly.
Preparing Mac and Cheese isn't difficult. The pre-cooked noodles are covered with a sauce made from milk, butter, flour, and cheese and baked in the oven. While the original Italian recipe called for Parmesan, many Americans prefer more intense cheese such as Cheddar. The final meal is creamy and cheesy and significantly richer than other pasta dishes with white sauces.
A fantastic wine to pair with Mac and Cheese is Chardonnay from the Chablis appellation in Burgundy. It's fresh and crisp with flavors of citrus and green fruits, which provide a fascinating contrast to the creamy dish.
For another interesting pairing, look for an off-dry German Riesling. The wine provides a subtle sweetness which creates a delicious contrast with the salty cheese. Here are some examples:
You can make this flavor combination even better by picking a semi-sweet sparkler like Lambrusco. It helps clean up your palate, so you can enjoy the full flavor of every bite you take.
More Details on Lambrusco: LAMBRUSCO – SWEET AND SPARKLING WINES FROM ITALY
Final Words
There are so many delicious types of pasta and pasta toppings, and logically, many wines to pair them with them. After reading this article, finding the perfect pasta and wine pairing isn't a problem for you anymore. Which is your favorite combination?