Italy is one of the most prestigious European wine countries and produces world-famous wines like Chianti or Barolo. Others might be less well-known but are nevertheless extraordinarily good. One of these hidden gems is Primitivo
Primitivo is a red wine grape variety that is primarily grown in the Puglia region of Italy. Vintners use it to produce complex, high-quality wines with full bodies, high levels of tannin and acidity, and intensely fruity, earthy, and spicy flavors.
In the following paragraphs, we will discuss the origin, history, and characteristics of the Primitivo grapes and the wines made from them.
What Does Primitivo Mean?
The origin of the name "Primitivo" is somewhat unclear. It might come from the Italian word "primo," which means "first" or "early." This is likely a reference to the grape's tendency to ripen earlier than many other grape varieties, which made it a popular choice for winemakers in the past.
Another theory is that the name may be a reference to the grape's ancient origins. Some experts believe it may have been one of the first grape varieties cultivated in the Mediterranean region. However, this theory remains speculative, and there is little concrete evidence to support it.
Regardless of its origin, the name "Primitivo" is widely recognized as a marker of the high-quality, full-bodied wines that are produced in Puglia and other parts of the world.
The Characteristics of the Primitivo Grape
Primitivo grapes are medium-sized with an oval or cylindrical shape. The berries have sweet, juicy flesh that is rich in sugar, and thick, tough skins. During fermentation, these thick skins contribute a significant amount of tannins as well as a deep, intense color to the wine. In addition, the grapes contain plenty of acidity.
The grapes are late-ripening and are typically ready for harvest in October. As it is susceptible to various diseases and pests, including powdery mildew and spider mites, they require careful management by vintners.
Are Primitivo and Zinfandel the Same Grape?
Primitivo and Zinfandel are essentially the same grape variety. For many years, they were thought to be separate grape varieties. But DNA testing in the 1990s revealed that they are both clones of the same grape variety, making them genetically identical. And indeed, they have very similar biological characteristics.
Despite their shared genetical identity, wine lovers distinguish Primitivo wines from Zinfandel wines today. The reason is the differences in their characteristics which root in the climatic circumstances in which they are produced. Italian Primitivo wines tend to be more tannic and rustic, while Zinfandel wines from New World wine countries have a fruitier, jammy flavor profile with red fruits being the dominant flavor.
Where Does Primitivo Wine Come From?
Primitivo wines come from Italy. While vintners grow these grapes in many parts of the country, such as Campania and Basilicata, wine lovers associate this variety in particular with Puglia. The region is located at the heel of Italy's boot. With its warm, sunny climate and fertile soils, it has provided ideal conditions for growing high-quality grapes for centuries.
In other parts of the world, such as California, Australia, and South Africa, the grape goes by the name Zinfandel. Typically, these wines are less prestigious than the original from Italy, though.
The History of Primitivo Wines
The origin of the Primitivo grape is the Dalmatian Coast region of Croatia where it was known as Crljenak Kaštelanski. Wine historians believe traders brought the grape variety to the Puglia region in Italy in the late 18th or early 19th century, where vintners planted the first vines around the town of Gioia del Colle.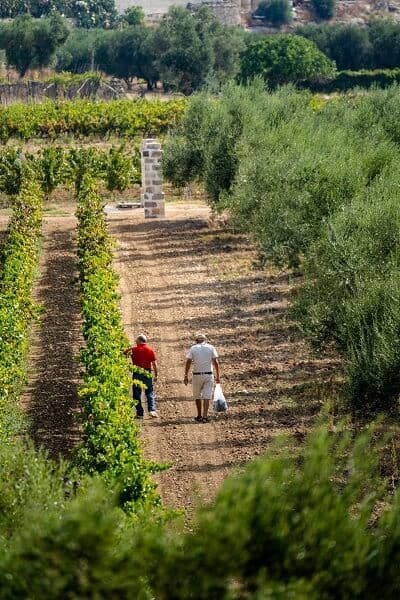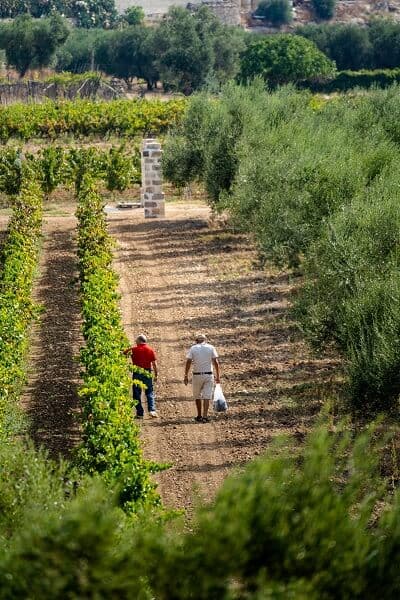 Initially, they used Primitivo as a blending grape to add color and body to their wines. However, in the mid-20th century, Puglia winemakers began to focus on producing high-quality single-varietal Primitivo wines.
Inspired by these great wines, vintners in other parts of Italy started to adopt the grape. And soon after, it also spread to other parts of the world, including California, Australia, and South Africa. The revelation of Primitivo's genetic relationship to Zinfandel further pushed its popularity and led to a greater appreciation for its unique characteristics.
Today, Primitivo is widely regarded as one of the top red grape varieties in Italy. While wines made by following traditional techniques are sought-after by wine lovers around the world, local winemakers have begun experimenting with new techniques and styles in order to showcase the unique characteristics of the grape and the terroir.
What Does Primitivo Wine Taste Like?
Primitivo wines are rich, bold, and full-bodied, with a deep, dark color and high alcohol content. Together with their firm tannins and robust structure, they create a powerful, chewy mouthfeel. Typically, they feature intense fruit-forward flavors, such as blackberry, black cherry, plum, and blueberry. Herbal notes are also common but rather subtle. Oak aging contributes additional aromas, particularly earthy and spicy flavors, such as cedar, vanilla, and tobacco.
Are There Primitivo Rosé Wines?
While most Primitivo wines are red, some vintners produce delicious Primitivo rosé wines, too. They usually go by "Primitivo Rosato". These wines are made using the same grape variety but other winemaking techniques to achieve a lighter, more delicate flavor profile.
Winemakers typically allow the grape juice to remain in contact with the skins for a shorter period of time than they would for red wines. This results in a lighter color and less tannin extraction, which helps to produce a wine with a more delicate, fruit-forward character.
Primitivo Rosato wines can vary in style, ranging from dry to slightly sweet. All of them are lighter, fruitier, and less tannic than their red counterparts. Typically, they are fresh and acidic, and feature fruity flavors of strawberry, raspberry, and watermelon, as well as notes of citrus and floral aromas.
Which Wines are Similar to Primitivo
The wine that comes closest to Primitivo in terms of taste is of course its genetic twin Zinfandel as we have discussed before.
Other wines that have comparable flavor profiles are Malbec and Syrah. The former is known for its deep color, full body, and rich, dark fruit flavors. The ladder comes in two versions: Syrah wines from Europe are very similar to Primitivo wines with additional notes peppery and spicy notes. Their New World cousins that go by Shiraz are more like Zinfandel wines with fruit-forward flavor profiles.
How to Serve Primitivo Wines
Primitivo wines are delicious with and without food. Because of their characteristics, they need specific conditions when served, though. Especially the glass and the serving temperature are important to create the best drinking experience.
Best Glass for Primitivo Wine
The optimal glass for full-bodied red wines such as Primitivo has a wide bowl to allow them to breathe and release all of its delicate aromas. In addition, it should have a narrow rim in order to concentrate these aromas and direct them toward the nose. The combination of these features will create the best overall drinking experience.
As you will not find a specific Primitivo wine glass, go for a Burgundy glass instead. Alternatively, most standard red wine glasses will do the job.
What Is the Optimal Serving Temperature for Primitivo Wine?
The optimal serving temperature for Primitivo ranges from 60 to 65 degrees Fahrenheit (16 – 18°C). This temperature is cool enough to accentuate the wine's freshness and acidity, but not too cold so that it would mute its subtle aromas.
To achieve the ideal serving temperature, you can chill the bottle in the refrigerator for 30 to 60 minutes before serving it. Be aware that the wine might lose its refreshing crispness while heating up to room temperature. To avoid that, use an ice bucket or a similar device to keep the bottle cool.
Should You Decant Primitivo Wine?
Decanting Primitivo wine is a matter of personal preference, but it can often enhance the wine's flavors and aromas, especially if the wine is young and tannic.
Primitivo wines are typically high in tannins. When not giving them enough time to breathe, they might taste overly bitter and astringent. Decanting the wine helps aerate it, allowing the tannins to soften and resulting in a more pleasant drinking experience.
Typically, Primitivo wines require between 30 minutes and one hour of decanting.
How to Store Primitivo Wine?
Proper storage is key to ensuring that Primitivo wine maintains its quality and flavor over time. The key factors are the same as for storing any other wine bottle:
Store the wine in a cool, dark place away from direct sunlight and heat sources.
Maintain a consistent temperature. The room should not be warmer than 64°F (19°C).
Store the wine bottle horizontally, so the wine keeps the cork moist and prevents it from drying out and crumbling.
Keep the bottle away from vibrating devices such as food fridges or air conditioning.
Avoid storing the wine close to chemicals with strong odors. They might invade the bottle via the cork and ruin the wine.
In any case, a wine fridge is the best option for storing wine.
Why Are Primitivo Bottles Heavy?
Many Primitivo wine bottles are quite heavy because they are made of thicker glass than other bottles. Winemakers choose these bottles for several reasons:
Primitivo wines are high in alcohol and tannins, and wines with these characteristics tend to produce high in-bottle pressure. The thicker glass helps to withstand this pressure and avoid breakage.
Primitivo wines are made for long bottle aging. It is common for wine lovers to keep them for years, sometimes even decades before opening them. The heavy, thick-walled glass provides extra protection against oxidation and other environmental factors affecting the wine quality during this time.
Consumers typically regard heavy goods as higher-quality and higher-value products. So the bottles also have an aesthetic aspect, making the wine appear more luxurious.
How Long Does Primitivo Wine Last When Open?
Once opened, Primitivo wine will generally last for about 3 to 5 days if stored properly. It is important to re-cork the bottle and store it in a cool, dark place to help slow down oxidation and prevent spoilage.
Can Primitivo Wine Go Bad?
Like any wine, Primitivo wine can go bad if it is not stored properly. Here are some clear signs of spoilage:
Unpleasant odors, such as vinegar, mold, or similar unpleasant smells.
Off-flavors, making the wine taste flat or sour.
A very cloudy or hazy appearance.
A leaking or soaked cork.
Can Primitivo Wine be Aged?
Primitivo wines are famous for their great aging potential. With their high levels of tannins and alcohol, they have quite the right characteristics to improve over time and develop new delicious aromas.
The majority of wines can be aged for at least a couple of years. There are some high-end wines that have the potential to improve for decades. To get it right, consult with your retailer when buying the wine.
Primitivo Wine Food Pairing
Primitivo wine pairs well with a variety of foods, particularly those that are hearty and flavorful. Here are some great pairings:
Grilled or roasted meats: Primitivo wine pairs well with red meats that are cooked over an open flame or roasted in the oven, including beef, pork, and lamb.
Stews and braises: Primitivo wine can stand up to rich and hearty stews and braises, such as Beef Bourguignon or Coq au Vin.
Tomato-based dishes: The acidity in Primitivo wine is great for tomato-based dishes. Of course, this goes primarily for Italian food, such as pizza and pasta with tomato sauce.
Braised Vegetables: If you prefer a vegetarian meal, go for hearty braised vegetables, such as eggplants. Mushrooms are a good choice as well.
Hard cheeses: If you do not plan to serve a main dish, you can also serve the wine with a selection of hard cheeses. Consider Parmesan or aged cheddar. Other options are charcuterie plates, for example, cured ham or salami.
Primitivo Rosato wines are delicious with lighter dishes. Combine them with salads, grilled fish, and seafood. Because of their freshness, they can also pair well with spicy dishes, for instance from Asian cuisine.
Primitivo Wine Shopping Tips
In general, Primitivo wines are quite affordable. Most bottles cost around 20 USD. However, it might be difficult to find one because not all of them go by the same appellation. Here are some tips to find an original from Italy:
Your best chance is to search for wines from the Primitivo di Gioia del Colle DOC. These wines come from the Primitivo heartland, so they are a safe choice.
Cantine San Marzano is a cooperative of over 1,200 small winegrowers in Puglia. They are known for their affordable yet delicious Primitivo wines
Masseria Li Veli is a single winery located close to the city of Cellino San Marco. It produces high-quality Primitivo wines with a focus on sustainability.
Fatalone: This family-owned winery in Gioia del Colle produces organic and biodynamic Primitivo wines that have received critical acclaim.
Polvanera: Located in the heart of the Primitivo di Gioia del Colle DOC, Polvanera produces elegant and complex Primitivo wines that are aged in oak barrels.
Gianfranco Fino: This boutique winery in Manduria produces small-batch Primitivo wines that are highly sought after by collectors and wine enthusiasts.
Other notable producers of Primitivo wines include Leone de Castris, Tormaresca, and Duca Carlo Guarini.
type: red, still, Vintage
origin: Puglia, Italy
varietal: Primitivo
alcohol: 14.0%
Cantine San Marzano Anniversario 62 Primitivo di Manduria Riserva 2018
type: red, still, Vintage
origin: Puglia, Italy
varietal: Primitivo
alcohol: 14.5%
Leone de Castris Il Medaglione Primitivo 2018
type: red, still, Vintage
origin: Puglia, Italy
varietal: Primitivo
alcohol: 13.5%
Final Words
Primitivo might not be the most prestigious of all Italian wines, but as a wine lover, you should definitely not miss it out. Especially if you enjoy Italian food, these Puglia wines are absolutely worth trying. Cincin!
Recent Posts