The wine world is not always red and white. In between of the two is the land of Rosé wine. But Rosé doesn't get nearly as much credit as it should. The reasons are that it's subject to some confusion, misunderstandings, and false rumors. Let's clear up with these rumors.
What Is Rosé Wine?
Rosé wines are wines that have a salmon-colored to pinkish appearance. To make them, winemakers use various grape varietals and production techniques. Depending on their choices, Rosé wines can be still or sparkling, light or bold, vary significantly in taste, and run anywhere from sweet or dry.
To enable yourself to find the perfect Rosé wine for your taste, let's discuss the different types and the ways to make them.
What Is Rosé Wine Made From?
Winemakers use a wide variety of grapes to make Rosé wines. The majority of them are red. Although you can find single-varietal wines, blending two or more of them is quite common among Rosé producers.
The most common varietals in Rosé production are:
Cabernet Sauvignon
Sangiovese
Tempranillo
Pinot Noir
Grenache
Malbec
Zinfandel
Depending on their home country, winemakers might have other preferences. We will discuss these preferences in more detail later in this article.
How Rosé Wine Is Made
In general, Rosé production follows the same steps as red or white wine production. After harvesting and pressing the grapes, the wine undergoes fermentation, filtration, and finally makes its way into the bottle. Most pink wines don't age in barrels, although there are exceptions.
Rumors say that Rosé is just a mix of red and white wine with the purpose of combining their characteristics. And actually, some winemakers follow this approach. However, it isn't the ideal way to make Rosé. High-quality Rosé wines are the result of other special winemaking techniques.
In total, there are four main ways of producing Rosé. Each one has its pros and cons, and naturally, its fans and critics.
Limited Skin Maceration
Wine color is the outcome of a process called "maceration". This process takes place immediately after pressing the grapes. The wine must sits in a container together with the grape solids (stems, seeds, and skins). These solid components contain tannins and anthocyanins that impart color on the wine must. And the longer the wine stays in contact with the grape solids, the darker its color becomes.
When making Rosé wines, vintners strictly limit the maceration. While red wines often macerate for months, Rosé stays in contact with grape solids for only six to 48 hours.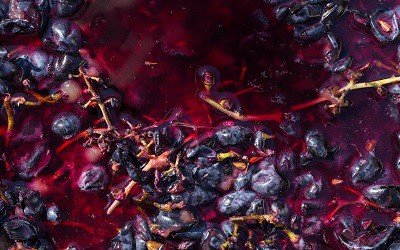 Maceration of Red Wine Grapes
Depending on the exact maceration time, wines made with this technique can be very versatile. They range from light, salmon-colored to richly flavored, pink wines.
Direct Pressing
Direct pressing is an even more rigid technique to limit the contact of the wine must with the grape solids. Instead of allowing them to sit together for a couple of hours, the vintner separates them immediately. Only tiny fragments of the grape solids make it into the wine must and impart a tiny bit of color on it.
Wines that undergo this method are the lightest-colored among the Rosé family. Typically, they are also very light in taste and have fruity aromas of citrus fruits, red berries, or rose blooms.
Saignée Method
The third way to produce Rosé wine is the Saignée Method. The French term "saignée" means "bloodletting", thus this technique also is called "bleeding". In winemaking, the original purpose of this method was the concentration of red wine. During the maceration process, the vintner removes some of the wine from the container. As the ratio of wine must to solids is lower afterward, the remaining wine will become darker in color and more concentrated in flavor.
Instead of dumping the removed must, many vintners allow it to ferment into Rosé wine. This method is an effective way of making larger batches of wine. And as it lets the winemaker make two kinds of wine at once, it's also economically conscious.
On the other hand, the Saignée Method is somewhat controversial in the wine community. Critics argue that the resulting Rosé is of lower quality because it's just a byproduct that vintners don't put much effort into. François Millo, president of the French Provence Wine Council (CIVP), even stated that Saignée Rosé is not true Rosé.
Despite this critique, Saignée wines can be outstanding. Usually, they are on the richer side of the flavor spectrum and not as refreshing as other Rosé styles.
Blending
The blending method is the fourth way to make Rosé. We've already talked about it in the introduction to this section. Blending is exactly what it sounds like: Winemakers take red wine and white wine, and simply mix them.
In many wine countries, especially in the Old World of winemaking, blending is a prohibited method. It's considered a cheap way to make low-quality wines that violates the essential traditions of winemaking.
There is one exception, though: In the French Champagne region, blending is actually the favorite method to produce Rosé sparkling wines. And Rosé Champagne is one of the best pink sparklers you can find in the world.
In the New World, wine laws are less strict, and blending is a common way to produce pink wines. Especially small wineries, that lack the means to use one of the other techniques, use this method. The resulting wines vary in quality and taste. They can range from very light to rather bold.
Where Does Rosé Come From?
Rosé wines have been around for millennia. There's evidence that they were among the very first wines recorded. Some historians think that the wine that the Ancient Greek and Romans drunk was Rosé. They made it by crushing and fermenting red and white grapes together. The result was a very tannic, almost undrinkable pink wine that was very different from modern Rosé.
In the 6th century, French winemakers produced Rosé from a blend of both red and white wines. The result was a pinkish wine that rose to popularity quickly. It made its way across the Mediterranean, and later across the world, so France was soon well known for its pink wines.
Pink Wines in the United States
While Rosé has gained a significant fanbase in Europe, it didn't play a big role in the United States until the 1970s. At this time, a new market segment was created. The reason was a technical problem: A Californian winemaker named Bob Trinchero wanted to make red Zinfandel wine. But the fermentation stuck. The yeast became dormant and stopped transforming grape sugar into alcohol. Unable to restart the fermentation process and unwilling to dump the unfinished wine, Trinchero instead started to market it aggressively.
The marketing strategy was successful. The new style, labeled as "White Zinfandel", quickly became a hit. Sales numbered skyrocketed from 25,000 bottles in 1980 to more than 1.5 million in 1986.
Inspired by this success, many American vintners started producing "blush" wine, a light and slightly sweet pink wine. These wines were very popular among U.S. wine drinkers until the late 20th century. Since then, their market shares have slowly decreased.
Nevertheless, Rosé wines still play an important role in the American wine market. Wineries in California, Oregon, Long Island, and other parts of the country have turned to more sophisticated methods of producing pink wines. Nowadays, they offer a wide variety of styles.
Different Types of Rosé
As mentioned before, Rosé wines come in different styles and with various taste profiles. They're determined by their home regions, the varietals, and the production methods. In the following paragraphs, we will discuss the most popular styles from around the world and their taste.
Italian Rosato Wines
While Italy primarily is famous for its red wines, it also produces some excellent pink wines. Depending on the region, you can find different styles of Rosé (Italian: Rosato). These are the most noteworthy:
Valle d'Aosta Premetta Rosé comes from Aosta Valley in northwestern Italy. It's made from Premetta grapes that naturally are very light-pigmented and have a thin skin. Even with extended maceration, they can only produce pale pink wines, but not reds. These wines have aromas of red fruits and subtle notes of cinnamon and other spices.
Sangiovese Rosé wines from the Tuscany region are rather bold but still refreshing. They have a rather high level of tannins, making them a good match even for some more sumptuous dishes. Sangiovese Rosatos are very fruit-forward and often have spicy aromas as well. Try these bottles:
La Spinetta Il Rosé di Casanova 2019
Tenuta Rocca de Montemassi Renaissance Rosé 2019
Montepulciano d'Abruzzo Rosé is from the Abruzzo region just east of Italy's capital Rome. This wine tends to be in the darker part of the color spectrum. It's also perceptively bolder than most other pink wines. On the other hand, it's less tannic than Sangiovese Rosato and offers intense fruit aromas. These two wines are great examples of the Abruzzo style:
Fantini Cerasuolo d'Abruzzo Rosé 2018
Zaccagnini Cerasuolo d'Abruzzo Rosé 2019
Negroamaro Rosé is a product of the Puglia region in the South of the country. Wines from this area are usually fuller-bodied with aromas of red berries, ripe citrus fruits, and roses. Here is one to test:
Cantele Negroamaro Rosato 2019
French Rosé Wines
Being the home country of Rosé, France still produces excellent pink wines. Especially three regions are well-known for making them:
The Tavel AOC in the Rhône Valley region is famous for its dry styles. The grapes to make these wines are primarily Grenache, Syrah, and Mourvèdre. Tavel Rosés are deep in color, offer complex bouquets, and are relatively strong in alcohol. These are a few recommended bottles of Rhône Valley rosé:
Domaine Guy Mousset Côtes-du-Rhône Villages Les Garrigues 2015
Chateau D'Aqueria Tavel Rosé 2018
Prieure de Montezargues Tavel Rosé 2018
In the Loire Valley, you can find numerous good Rosé wines. For instance, Anjou and Touraine wines. They're very crisp and light, with flavors of raspberries and red currant. You might also sense some herbal notes in them. While Touraine Rosés are made from Gamay grapes, a wide variety of varietals is used to produce Anjou Rosé, including Cabernet Sauvignon, Cabernet Franc, and Malbec. Here are some recommendations:
Remy Pannier Rosé d'Anjou 2018
Charles Joguet Chinon Rosé 2019
Domaine de Pallus Messanges Rosé Chinon 2019
Gerard Boulay Sancerre Rosé Chavignol Tradition 2018
Provence wines are considered the best of all French Rosés. Winemakers in the Southeastern region of France have a long tradition of making them. They blend Grenache, Syrah, and Cinsault grapes to produce almost colorless wines. However, they are incredibly fresh and fruity, with crisp acidity. Bandol wines are exceptional. The primary varietal to make them is Mourvèdre grapes. And the result is bolder wine with significant tannin levels. Try these wines to get an idea of the famous Provence flavor:
La Bernarde Cotes de Provence Rosé Les Hauts de Luc 2019
Fleur de Mer Rosé 2019
Mirabeau Cotes de Provence Rosé 2019
Spanish Rosado Wines
The vintners of Spain have dedicated themselves to their own style of Rosé for many years. The increasing popularity of pink wines has brought a thirst for new kinds, and the Spanish have delivered. These are the types of Spanish Rosé you should know:
The region of Navarra at the French border is known for its high-end Rosado wines. The most noteworthy varietals for this type of wine are Tempranillo, Merlot, and Cabernet Sauvignon. Navarra vintners often follow the Saignée Method, but nevertheless, they produce high-quality wines. These are some Navarra Rosado wines worth testing:
Bodegas Inurrieta Mediodia Rosado
Bodega Otazu Navarra Rosado
Txakoli Rosé is one of the most notable products coming out of the Basque country in Northern Spain. This dry sparkling Rosé is made from the domestic grape type Hondarrabi Beltza. The pale pink wine offers fruity aromas as well as mineral notes. Check out these Txakoli Rosados:
Ameztoi Getariako Txakolina Rubentis Rosé 2019
Txomin Etxaniz Rosé 2018
Zestos Rosado 2018
Rioja Rosado is another high-quality style from Spain. The Rioja region is one of just two Spanish wine regions that have the highest quality classification DOCG. Just like its bold reds, its Rosé wines from Tempranillo and Grenache grapes are extraordinary good. And they are special because some of them age in oak. Commonly, this aging period lasts between six months and two years. If you want to try a Rioja Rosado, look out for these bottles:
CVNE Rosado 2018
Bodegas Muga Rioja Rosado 2018
Sierra Cantabria Rosado 2017
American Rosé Wines
As already mentioned, American vintners are engaged in making Rosé too. Even though they are fairly new to the Rosé making scene, it's becoming a rapidly growing industry.
Rosé wines from California are summer wines. For a hot day under the Californian sun, they are the right pick. They are light, fresh, and also typically not too expensive. Try some of these:
Joel Gott Rosé 2019
Fleur de California Rosé of Pinot Noir 2018
In Washington State, you can find some great Grenache and Cabernet Franc Rosé wines. In addition to the typical fruity bouquet of Rosé wines, they offer crisp acidity and subtle herbal and mineral notes. Here are two examples:
Chateau Ste. Michelle Rosé 2018
Charles & Charles Rosé 2018
Oregon Rosé wines, especially those from Willamette Valley, are made from Pinot Noir grapes. They are rich and creamy, with refreshing acidity and citrus aromas.
WillaKenzie Estate Rosé 2018
Erath Rosé of Pinot Noir 2018
Sparkling Rosé Wines
Finally, you can find sparkling Rosé wines from most of the formerly mentioned regions and all of the big wine countries. They vary in style, just like the still wines from these areas differ.
Here is a small selection of pink sparklers:
French Champagne: Henriot Brut Rosé
Spanish Cava: Segura Viudas Cava Brut Rosé
German Sekt: Lothar Kettern Spaetburgunder Sekt Rosé
Italian Prosecco: Canella Brut Rosé
How to Serve Rosé Wine
Rosé is great with food, but sometimes even better on its own. Especially the light styles are great refreshments for a garden party and also make a fantastic aperitif before dinner. The right glassware and serving temperature are crucial to provide the best drinking experience.
What Is The Right Glass for Rosé?
Rosé glasses look a little bit like champagne flutes with a slightly wider bowl. They allow some evaporation of alcohol but hold the fruity aromas inside the glass. The rim shape leads the wine to the tip of the tongue, where the drinker can sense its sweet notes best.
If you don't have a Rosé glass at hand, a small white wine glass does the job too. Sparkling wine glasses are fine as well, except for Vintage Coupé glasses.
More Details on Wine Glasses: WINE GLASSES EXPLAINED – THE GLASSWARE GUIDE
What Is the Right Serving Temperature for Rosé Wine?
The right serving temperature for Rosé wine is between 50 and 57°F (10-14°C) when you pair it with food. If you sip it on its own, a slightly lower temperature will be better, especially on a hot summer day. Aim for 46-50°F (8-10°C).
To bring the wine to the right temperature, chill it in your fridge for about 90 minutes. Make sure to take it out about half an hour before opening the bottle.
Should You Decant Rosé?
Decanting Rosé isn't necessary for most pink wines. As their freshness is their crucial characteristic, decanting can actually hurt them. Better pour it into glasses and serve it right away.
Aged Rosés, for instance from Spain, might be an exception. Decanting them for 15 to 30 minutes helps them release all of their aromas. Don't do it much longer, though, or they will get too warm.
How to Store Rosé Wine
When storing Rosé, follow the same rules that apply for red and white wines: A cool, dark place free of temperature changes, strong smells, or constant vibrations is perfect. If the bottle has a cork, store it lying on its side. If it has a screw top, it's okay if they stand on the shelf as well.
Can Rosé Be Aged?
In general, no. The vast majority of Rosé wines have no aging potential. They are supposed to be consumed when young and fresh. So don't store them too long.
There is one exception though: Wines from the Provence, especially from the commune Bandol. These wines from Mourvèdre grapes tend to be bold and powerful with firm tannins. Aging will soften their tannins and create a more-balanced drinking experience.
Some Tavel wines might also qualify as ageworthy.
Can Rosé Go Bad?
Yes. Like most wines, Rosé can go bad if you store it too long. As a general benchmark, don't keep it longer than two years. Particularly for young, fresh wines, that's often the deadline. However, you shouldn't risk ruining a bottle and better drink it soon after buying it.
Exceptions are the formerly mentioned bold styles. Some of them will keep for much longer than two years.
How Long Does Rosé Last When Open?
Typically, an open bottle lasts for three to five days. After that, it will rapidly lose its characteristic freshness. Make sure to put reseal the bottle and put it in the fridge.
Which Food Goes With Rosé Wine?
Rosé is an allrounder when it comes to food pairing. It can pair with almost every dish. Of course, the specific style determines the nuances between a good and a great match.
Dry wines are delicious with light dishes, including seafood, pasta, grilled vegetables, and white meats like chicken. If you serve it as a refreshment, you can pair it with cured meat and cheese. Make sure to combine wines and snacks from the same region.
Bold styles with a delicate balance of crisp acidity and tannins can cut through richer meals as well. You can even try them with Pizza or burgers.
Sweet Rosé is awesome for dessert. It can complement the sweet flavors in fruity and creamy dishes, or work as a counterpart for sharp and salty blue cheeses.
Sparkling Rosé is a great companion for spicy dishes, for instance, from the Asian cuisine. The combination of crisp acidity and fizzy bubbles cleanse your palate after every bite to soften heir heat.
Rosé Wine Shopping Tips
Due to the wide variety of styles, finding the right Rosé for your taste can be difficult. You can find decent wines for as low as 15 USD. The best pink wines can cost more than 100 USD per bottle. Here are some recommendations for each price tier:
under 30 USD
Mas de Gourgonnier Les Baux de Provence Rosé 2019
Justin Rosé 2019
Domaine de Fontsainte Corbieres Gris de Gris 2019
30 – 50 USD
Chateau de Pibarnon Bandol Rosé 2019
Flowers Sonoma Coast Rosé 2019
Chateau des Bertrands Estate Rosé 2018
over 50 USD
Chateau d'Esclans Garrus Rosé 2017
Veuve Clicquot Champagne Rosé
Laurent-Perrier Cuvee Rosé
Final Words
Many people misunderstand Rosé and confuse it with cheap blends of white and red wine. But it's much more than that. With the details in this article, you know it better. Now it's time to discover the small nuances between the different styles and find your favorite pink wine.