Without a doubt, pizza is one of the world's most popular meals. People all around the world love the Italian dish, and many have created their own variations. While it's common to enjoy it with beer or soft drinks, it's absolutely possible to create delicious pizza and wine pairings.
What Is Pizza?
Pizza is an Italian dish which has a history of hundreds of years. Traditionally, it has a round base of wheat-dough, coated with tomato sauce and cheese and topped with a wide variety of ingredients. After baking in the oven at a high temperature, pizza is a crunchy, somewhat savory meal. While the tomato sauce adds fruitiness and a bit of acidity, the final flavor profile depends on the toppings.
How to Pair Pizza and Wine
In general, pizza goes with red wine. A wine with aromas of red or black fruits works very well with the fruity tomato sauce. To stand up to the savory dough and the cheese, decent levels of tannins and acidity are necessary. So, as a rule of thumb, a medium-bodied fruity red wine is a good choice.
However, the toppings can create the need to adjust the wine pairing. Especially fatty meats like pepperoni can call for bolder wines. And when choosing lighter or no additional toppings, white and rosé wines might become an option. In the following paragraphs, we'll discuss the best wines to match the most popular pizza preparations.
Pizza Margherita and Wine
Pizza Margherita is the simplest type of pizza. With tomato sauce, Mozzarella cheese, and basil, it's a light and fruity variation of the famous Italian dish.
The best wine to match these flavors is an Old World dry rosé with decent acidity. It's similarly light and fresh like the pizza and helps bring out its rather subtle flavors without being too dominant. French rosé wines from the Provence tend to be a good match:
Chateau d'Esclans Whispering Angel Rose 2019
Ultimate Provence UP Rose 2019
More Details on Rosé Wine: ALL YOU NEED TO KNOW ABOUT ROSÉ WINE
If you are a white wine lover, you can also choose a Pinot Grigio. Sweeter variations from France don't match the pizza's flavor profile. So make sure to pick a dry Italian style from the Friuli-Venezia Giulia region or the Trentino-Alto Adige region:
Livio Felluga Pinot Grigio 2017
Jermann Pinot Grigio 2018
Pepperoni Pizza and Wine
One of the most popular toppings for pizza is pepperoni. This soft type of salami typically is a fatty mix of pork and beef seasoned with pepper and chili. It adds smoky and salty aromas and makes the pizza significantly bolder.
To match this meal, you need a wine that can stand the fatty pepperoni. For a consistent Italian experience, choose a Sangiovese wine. Especially young Chiantis are excellent pairings for Pepperoni pizza. The fruity and earthy notes of these DOCG wines from the Tuscany region complement its flavors superbly. They have significant levels of acidity and tannin to cut through the fatty meat. But they aren't too bold to overpower the pizza.
Try these wines:
Da Vinci Chianti 2018
Ruffino Chianti 2018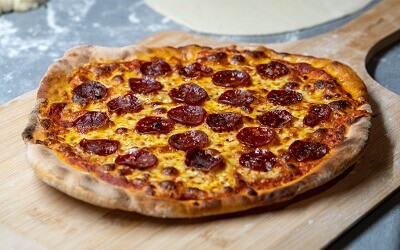 Prosciutto Pizza and Wine
Another classical meat topping for pizza is Italian Prosciutto. Prosciutto is a cured type of ham from the city of Parma in the Emilia-Romagna region. It offers a rich combination of salty and subtle sweet flavors. Some kinds of Prosciutto also add herbal notes because they were seasoned with pepper, rosemary, and similar herbs.
More Details on Ham and Wine: HAM AND WINE – WHICH PAIRINGS WORK BEST?
The right pairing for Prosciutto pizza is a medium-bodied red wine. On the one hand, it should have a decent level of acidity to stand the ham. But on the other hand, it shouldn't be too heavy, so especially the ham's subtle sweet notes can shine. Both Brunello and Tignanello wines have these characteristics, so they are excellent matches:
Il Poggione Brunello di Montalcino 2013
Castelli Martinozzi Brunello di Montalcino 2015
Antinori Tignanello 2017
Alternatively, you can also rely on the formerly mentioned Chianti.
Pizza Hawaii and Wine
Hawaiian pizza might be the most controversial variation of pizza that you can come across. People either love or hate it for its composition of salty ham and sweet pineapple. Although Pizza Hawaii isn't as fatty as pepperoni or sausage pizza, it's quite rich in taste.
The right pairing for this interesting dish is an off-dry to semi-sweet white wine. Wines with these characteristics complement the pizza's flavors perfectly. Be aware that acidity is critical to cut through the meat. A German Riesling fulfills all of these requirements. You have to select carefully, though, because many German Rieslings are completely dry, and those wouldn't be a great match. Instead of Riesling, you can also try a French Vouvray. Here are some recommendations:
Dr. Loosen Blue Slate Riesling Kabinett 2018
Selbach Oster Zeltinger Himmelreich Kabinett Halbtrocken 2016
Domaine Huet Vouvray Sec Le Haut Lieu 2019
In case you like sparkling wine, there are some more delicious options for you. Try dry Prosecco or a sweet Lambrusco. Both come from Italy and match Pizza Hawaii very well. Here are some sparklers to try:
Santa Margherita Prosecco Superiore
Bisol Jeio Prosecco Superiore
Lini 910 Labrusca Lambrusco Rosso
Venturini Baldini Montelocco Lambrusco
Seafood Pizza and Wine
Seafood is not everybody's cup of coffee. But some people love their pizza with anchovy, clams, prawns, or shrimps. While these ingredients don't taste exactly the same, they share an intense salty note. In many cases, they are combined with garlic (or garlic oil), adding another dominant flavor to the mix that makes seafood pizzas special.
To match seafood pizza, you need a strong wine. Otherwise, it will be overpowered by the salty and pungent aromas. Actually, seafood pizza is one of the very few pizzas that you can enjoy with a bold red wine. Consider a Rioja or a Syrah:
Ostatu Rioja Crianza 2016
Tierra Agricola Labastida Rioja Crianza 2016
Guigal Crozes Hermitage 2017
Georges Vernay St Joseph Terres d'Encre 2017
Vegetarian Pizza and Wine
As vegetarian food becomes more and more popular, you can find many pizza preparations without meat toppings. Some of them are very light with ingredients such as spinach, arugula, tomatoes, or even lettuce. Others are a bit bolder, featuring roasted artichokes or eggplants. Depending on the toppings, vegetarian pizzas can differ perceivably from each other in terms of boldness and flavors. So you need to consider carefully which wine you serve to pair them.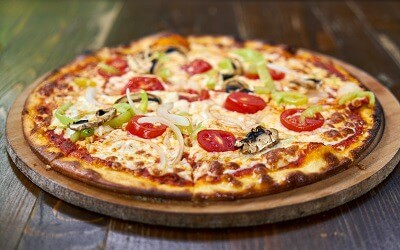 In general, white wines are the right way to go. Sauvignon Blanc is a great choice. Especially for pizzas with green toppings, the fresh citrus flavors of this wine are a delicious match. Another wine with comparable characteristics is Verdejo:
Patient Cottat Sancerre Anciennes Vignes 2019
Domaine Paul Buisse Touraine Sauvignon 2018
Bodegas Ordonez – Rueda Nisia Verdejo 2017
Tinto Rey Estate Verdejo 2017
For a more savory veggie pizza, you might prefer a red wine like Cabernet Franc. This medium-bodied red wine has just enough acidity and tannins to deal with fleshy roasted vegetables and also with tasteful types of cheese. And its aromas of red fruits, bell peppers, and herbs work perfectly with the pizza. As New World Cabernet Franc tends to be a bit too bold to pair with vegetables, better pick a wine from France or another European Country:
Domaine de Pallus Messanges Rouge Chinon 2018
Bertrand Galbrun Chatrois Cabernet Franc 2015
Domaine des Champs Fleuris Saumur Champigny Les Tufolies 2018
Greek Pizza and Wine
Greek pizza comes with a wide variety of toppings. Fruity cherry tomatoes, tangy red onions and bell peppers, salty olives, crunchy pine nuts, and creamy feta cheese create a unique flavor composition. This pizza typically has a thin crust flavored with lots of olive oil, distinguishing it notably from Italian pizza.
Greek pizza is vegetarian as well. But because of its numerous intense ingredients, you need to rethink your wine pairing. The wine must be able to stand, in particular, the salty and pungent aromas. For that, it needs a high level of acidity. Dry New World rosé wines from California or South America have exactly what it needs. Especially wines with red fruit aromas add superbly to the flavor mix. Try one of these bottles:
La Crema Pinot Noir Rose 2018
Angels & Cowboys Rose 2019
J. Moss Rose of Cabernet Sauvignon 2018
Another wine to match with Greek pizza is Merlot. Its intense aromas of red and black fruit are fantastic when combined with the spicy and salty pizza flavors. While its acidity and tannins are strong enough to stand the cheese, they are not too dominant.
Chateau La Bastienne Montagne-St.-Emilion 2016
Duboeuf Merlot 2017
More Details on Merlot: MERLOT – THE FRENCH ALL-ROUNDER WINE
Mushroom Pizza and Wine
Mushrooms are popular add-ons for many types of pizzas, and sometimes they are the main topping. Button mushrooms are the most common choice, but many people also like truffles or porcini. Of course, mushrooms are vegetarian-friendly, although they add a special earthy fleshiness, comparable to lean meats. That fleshiness creates a much richer eating experience.
When searching for a pairing for mushroom pizza, look for a wine that features similar earthy notes. It should have some tannins, but they shouldn't be too aggressive. Many Pinot Noir wines from California belong to this category. They deliciously combine earthy and fruity aromas and often add herbal notes to the bouquet as well. Try one of these wines:
Goldeneye Anderson Valley Pinot Noir 2017
Hahn SLH Pinot Noir 2018
A white wine that matches mushroom pizza is Chardonnay. Especially the dry, oaked wines from the Côte d'Or area in the French Burgundy region are excellent pairings:
Pierre-Yves Colin-Morey Bourgogne Hautes Cotes de Beaune Blanc Bout de Monde 2018
Bouchard Père & Fils Beaune Clos St Landry Premier Cru Monopole 2017
White Pizza and Wine
While a red tomato-based sauce is a crucial ingredient for original Italian pizza, white pizza is made without it. Instead, it has a layer of garlic oil and three types of cheese: Mozzarella, Grana Padano, and Ricotta, an Italian cream cheese. Various herbs such as oregano, rosemary, and thyme complete the dish.
Without tomatoes, white pizza is significantly less acidic than traditional pizza. A good wine to drink with this pizza is a Carignan. With its high acidity, this red wine can cut through the cheese, and its rich fruit flavors complement the pizza's herbal notes very well. These Californian wines are good picks:
De Martino Vigno Carignan 2015
Lioco Sativa Carignan 2017
For white wine lovers, a Chablis Grand Cru Chardonnay from France is a great alternative. These rich, buttery wines provide just the right mixture of a medium to full body, fruity aromas, and mineral notes. They are rather expensive but nevertheless worth trying:
Albert Bichot Chablis Montee de Tonnerre Premier Cru Domaine Long-Depaquit 2018
Louis Jadot Chablis Blanchot Grand Cru 2016
Domaine Francois Raveneau Chablis Vaillons Premier Cru 2012
BBQ Chicken Pizza and Wine
Just like white pizza, barbeque chicken pizza differs significantly from traditional Italian pizza. The main reason is the sauce: Instead of a tomato sauce, the dough gets covered with barbeque sauce that combines smoky and sweet flavors. The main topping is cooked chicken breast, which is a light type of meat. Other typical toppings are red onions that add some subtle spiciness, cheese, and several herbs.
To avoid overpowering this flavor profile, you should stay away from wines with firm tannins. A light- to medium-bodied red wine with fruity flavors is an excellent pairing, though. Try, for instance, a Pinot Noir or an Italian Dolcetto. Some full-bodied wines that aren't too high in tannins like Malbec can be a good alternative, too:
Georges Vigouroux Gouleyant Malbec 2018
Château Haut-Monplaisir Cahors Tradition 2017
Alternatively, try a rosé wine. You have to go for the bolder styles from New World wine countries such as the United States, though. Old World rosé tends to be too light to match BBQ chicken pizza. Zinfandel rosé from California is a fantastic option:
Buehler White Zinfandel 2018
More Italian Food and Wine Pairings: THE BEST ITALIAN FOOD AND WINE PAIRINGS
Final Words
With the numerous variations of pizza, it's not easy to find the perfect wine pairing. But with the information from this article, you are prepared for your Italian dinner night. Feel free to do some experimenting to find your perfect pizza and wine match.