Both Italian food and wine are known and loved around the world. But as Italian cuisine is so versatile, some wine lovers struggle to combine them properly. This article will discuss some easy rules to create the best Italian food and wine pairings.
How Does Italian Food Taste?
Italian cuisine is based upon a set of basic flavors, coming from a couple of key ingredients. You can find them in many different dishes:
Italian chefs use tomatoes in all shapes and forms. Raw and sliced, they make great antipasti and salads. And when blended and cooked, they are the crucial ingredients for pizza, pasta sauces, and soups. Tomatoes offer fruitiness as well as acidity.
Rich dry-cured meats, including Prosciutto, salami, or Italian bacon, add nutty and salty notes to the culinary experience. Italians eat them raw as antipasti or add them as toppings to their pizza or pasta.
There is almost no Italian dish made without cheese. It is used to scallop pizza, pasta, and meats, add texture to sauces, or simply with a cured meat plate. Depending on the type, cheese can add salty, nutty, or sweet notes.
Olive oil is used for frying, refining sauces, and making dressings for salads.
Herbs such as basil, oregano, sage, or rosemary provide the typical Mediterranean flavor.
How to Pair Italian Food and Wine
When pairing Italian food and wine, you should have a couple of things in mind:
First, consider how rich the food is. Savory meals call for bold, full-bodied wines, while lighter dishes need light-bodied wine.
In general, meals with tomato-based sauces go well with red wines. As the tomatoes' acidity might clash with an acidic wine, better go for a low- to medium-acidity wine.
If you use plenty of cream or cheese as an ingredient, pair the meal with an acidic white wine.
For dough-based food, your wine should have a good level of tannins. Dishes with fish are exceptions because they often clash with the tannins and create very unpleasant metallic flavors.
Sparkling wines are great for tuning down the heat of very spicy meals. You can also pair them with very salty dishes.
With these rules in mind, let's discuss the best Italian food and wine pairings.
Wine with Pizza
Pizza is Italy's most iconic meal. While you can find many variations that differ pretty significantly from the original, Italian pizzas typically have a thin base made from wheat dough and are coated with tomato sauce and cheese.
The best wine pairing for pizza depends on the additional toppings:
Pizza Margherita comes without additional toppings and is the lightest variation. You can enjoy it with a light red or with a dry rosé, for instance, from the Provence region in France.
Pizza with pepperoni goes well with a young Chianti with just enough acidity and tannins to stand the fatty meat.
Prosciutto, the cured Italian ham, is lighter than pepperoni. Thus, a lighter red wine is the right pairing for a Prosciutto pizza. Wines such as Brunello or Tignanello are great options.
Pizza Hawaii is a controversial type because many people don't like fruity toppings on a pizza. Pick a semi-sweet white wine to match the combination of salty ham and sweet pineapple. Especially German Rieslings are delicious matches.
If you prefer your pizza with only vegetarian toppings, you can try a medium-bodied white wine, such as Sauvignon Blanc or Verdejo.
More Pizza and Wine Pairings: WHAT IS THE BEST WINE TO PAIR WITH PIZZA?
Wine with Pasta
The second big staple of Italian cuisine is pasta. There are hundreds of different types and shapes and even more ways to prepare them. Among the most popular are Spaghettis, Macaroni, and Fusilli.
Just like for pizza, you should consider the sauce and toppings when picking the wine to match your pasta dish:
Pasta with tomato sauce pairs well with dry, medium-bodied reds. Sangiovese, Negroamaro, and Tempranillo are great options. Their acidity levels are just right to not clash with the tomato sauce, and their fruity aromas add deliciously to the flavor mix.
You have more options if your tomato-based sauce comes with meat, such as a Bolognese. Of course, you can stick to the formerly mentioned wines, but you can also pair it with slightly bolder wines. Try a Primitivo or a Montepulciano.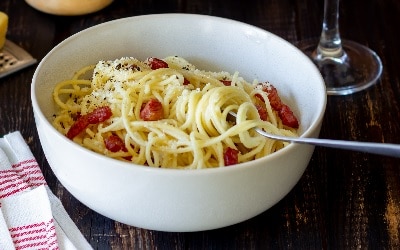 Pasta Carbonara is made with a white sauce from eggs, cheese, and cured meat. It's lighter than tomato sauces, so it opens the door for white wine pairings. Especially Pinot Grigio or Malvasia-Trebbiano wines from the Lazio region are delicious options.
In the United States, Mac and Cheese is a loved pasta variation because it's delicious and easy to prepare. The sauce is made from milk, flour, butter, and cheese. And the right way to match it is Chardonnay, for instance, the wines from the Chablis region in Burgundy. They bring fresh citrus flavors and good acidity to the table. Alternatively, you can try an off-dry German Riesling.
More Pasta and Wine Pairings: WINE WITH PASTA – WHICH PAIRINGS ARE BEST?
Wine with Lasagna
Technically, lasagna is pasta, too. However, it's worth discussing it separately. Made from layers of pasta sheets, ricotta, mozzarella cheese, and meat sauce, lasagna is rich and full of different flavors.
Lasagna goes very well with red wines from Tuscany. In particular, Chianti Classico, a complex wine with red and black fruit aromas and earthy and herbal notes, is a great match.
Vegetarian preparations with spinach or asparagus are significantly lighter than meat lasagna. Thus, you can pair them with white wines. Try, for instance, a crisp Vernaccia di San Gimignano or a Pinot Grigio from Alto Adige.
More Lasagna and Wine Pairings: DINING LIKE IN ITALY: HOW TO PAIR LASAGNA AND WINE
Wine with Osso Buco
Osso Buco is an excellent Italian veal dish. It comes from the Lombardy region and is made from a cross-cut veal shank. The meat sears for a short time and then braises slowly in a tomato sauce for up to two hours. When done, it's so tender that it almost falls off the bone.
Typically, Italians serve Osso Buco with a creamy risotto, vegetables, and a green sauce from garlic, parsley, and lemon zest.
The right wine has to stand both the rich meat and the creamy risotto. To do so, it needs acidity and a good body. Try a Barolo or a Super Tuscan like Tignanello. Both have delicious red fruit aromas that match Osso Buco perfectly. Be aware that you need an oaked-aged wine. Young, unoaked variations usually have aggressive tannins that clash with the tomato sauce, and you definitely want to avoid that.
Wine with Veal Scallopini
Another popular veal dish from Italy is Veal Scallopini. It is not only very flavorful but also very easy to prepare. Scallopini are thin, tender cuts drenched in wheat flour and fried in a redux sauce. Italian chefs use multiple variations of this sauce, and for each of them, another wine pairing is best:
When you make your scallopini with a piccata sauce from capers, lemon juice, and butter, pick a dry rosé. It should have at least a medium body. Otherwise, the dish will overpower it. Try a wine from California or France that offers citrus, red fruit, and herbal aromas.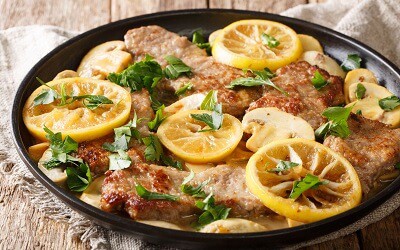 If you prepare the dish with a wine-tomato redux, the optimal match is Sangiovese. The wine shouldn't have too much acidity, though, because the tomato sauce already is quite acidic.
The third common variation is a redux from wine and mushrooms. You need a high-acidity wine for this sauce, preferably a white one. Especially Pinot Grigio wines from Trentino-Alto Adige or Friuli-Venezia Giulia are fantastic matches.
More Veal and Wine Pairings: THE MOST DELICIOUS VEAL AND WINE PAIRINGS
Wine with Chicken Marsala
You might have heard of Marsala, the sweet fortified wine from Sicily. But did you know that Italian chefs make a fantastic chicken dish with this wine? More precisely, they dredge chicken breast in flour, season it with salt and pepper, and fry it in butter. Then, they cook mushrooms together with garlic, chicken broth, heavy cream, herbs, and Marsala wine.
When done, the sauce is deliciously rich, and the meat is tender, making Chicken Marsala a great meal. The right wine for this dish is a red on the lighter side. Both Pinot Noir and Gamay are good picks. White wine lovers can go for a full-bodied Chardonnay.
More Chicken and Wine Pairings: HOW TO CREATE DELICIOUS WINE AND CHICKEN PAIRINGS
Wine with Zuppa Toscana
The Italians know not only to make excellent pizza, pasta, and meat dishes, they also have recipes for amazing soups. Zuppa Toscana (English: Tuscan Soup) is one of them. The name is an American creation, though; the original is called "Minestra di Pane" (English: Bread soup).
As the name indicates, the main ingredient is toasted Tuscan bread. Besides, you need Italian bacon, potatoes, and various vegetables such as kale, carrots, celery, and onions to prepare the soup.
The optimal wine pairing for Zuppa Toscana is a rich white wine. On the dry side, you can go for a Chardonnay. It shouldn't be aged, though; otherwise, it might overpower the soup. If you are into off-dry wines, try a German Riesling Spätlese or a French Pinot Gris from the Alsace region.
More Soup and Wine Pairings: HOW TO PAIR WINE WITH SOUP – 7 DELICIOUS MATCHES
Wine with Italian Cheese
While many of the dishes we discussed contain cheese, we should also talk about the best wine pairings for cheese when you enjoy it on its own. Italy is the home of many fabulous types of cheese, including salty hard cheeses, creamy soft cheeses, and sharp blue cheeses.
For salty hard cheeses such as Grana Padano, Prosecco is a good pick. In combination with the cheese, the dry sparkling wine provides the perfect Italian experience.
Soft cheeses like Mozzarella are delicious with Pinot Grigio. The dry white adds freshness and distinct citrus aromas that match excellently with the soft, mild cheese.
Blue cheeses such as Gorgonzola need a counterplayer to their intense, sharp aromas. A sweet sparkler like Moscato d'Asti is precisely that. Its fruity sweet notes counter the sharpness of the cheese, while the bubbles help clean your palate.
More Cheese and Wine Pairings: WINE AND CHEESE – 20 GREAT PAIRINGS FOR YOUR PARTY
Final Words
No matter if you are a fan of pizza, pasta, or one of the many other delicious Italian meals, with the right wine, you will make it even better. With the information from this article, you are absolutely able to do create the best Italian food and wine pairings. Buon appetito.