Nothing says Italian dinner like a classic lasagna paired with the perfect wine. However, with all the different ways to make lasagna and hundreds of options for wine, it may be challenging to know which lasagna style pairs with which wine. In this article, we will discuss the best lasagne and wine pairings.
Which Wine Goes With Lasagna?
Traditional lasagna has a variety of flavors in it, including red sauce, pasta, bechamel, ricotta or cottage cheese, and occasionally beef. A medium-bodied, juicy red wine with decent acidity can cut through the layers of the lasagna like a fork. Try a Barbera, Gamay, Beaujolais, or Sangiovese. If you prefer one of the non-traditional lasagna styles, you may need to stray from classic Italian red wine.
The History of Lasagna
Lasagne is a versatile dish that can contain meat, vegetables, traditional pasta, and red as well as white sauces. Combining these ingredients in various ways can result in very different culinary experiences and also in different wine pairings.
Lasagna is a traditional Italian dish that can be served as a main course, or as a "primo piatto" (English: first course) ahead of the main meat dish. With meat, a red sauce, and cheese, it's a rather heavy dish.
Before the infamous tomato was brought from the New World to Italy in the 16th century, the Italians made lasagna with sheets of pasta, soft cheese, spices, and a meat ragu sauce. For the sauce, they used different types of meat, such as wild boar, sausage, beef or pork, and combined them with wine, milk, oil or butter, pancetta, carrots, onions, and celery. Eventually, they added tomatoes to the recipe.
With the rise in popularity of lasagna throughout the world, more and more variations came up in many different regions of the world. Many of them, especially vegetarian styles, are much lighter and address different preferences.
Which Wine Goes with Which Lasagna Style?
Like for other foods, you should always try to match the intensity and weight of the dish with the intensity (body) of the wine: Bold wines go with rich meals, and light-bodied wines pair well with light dishes. You can also prepare your pairings based on color: White wine for white meat and red wine for red meat.
More Details on Wine Body: WHAT IS WINE BODY AND HOW CAN YOU DESCRIBE IT?
With these rules in mind, let's discuss some common lasagna styles and the wines that match them.
Lasagna Al Forno and Wine
Traditional lasagna is called Lasagna Al Forno. It contains meat sauce, layers of pasta, ricotta, mozzarella cheese, and Italian seasonings such as oregano and basil. To celebrate the culture of this dish, we recommend traditional Italian red wines, such as Chianti or Sangiovese. Alternatively, a Spanish Rioja is a nice match.
For Chianti, try Castello di Monsanto Chianti Classico Riserva DOCG from the Tuscany region of Italy. This complex wine is a dark, ruby red color with flavor notes of coffee and dried fruits. Expect to pay around 25 USD for a bottle of 750 milliliters.
If you feel like splurging for a super special dinner, try the Castello di Ama Vigneto La Casuccia Chianti Classico Gran Selezione DOCG. It comes from the heart of the original Chianti appellation and offers aromas of ripe black fruits and notes of clove, licorice, tobacco, and leather. With 160 USD per bottle, it's a high-priced wine, but it's totally worth it. If you prefer a more affordable wine, pick a newer vintage or another style from the same winery.
Spinach Lasagna and Wine
The idea behind spinach lasagna is to replace the meat by spinach and, in some cases, mushrooms. You can make them with red as well as white sauces, but you should use a type of cheese with a more robust flavor than Mozzarella. Grana Padana is a good alternative.
For these types of dishes, try a dry Italian white wine such as a Vernacchia or Gavi. These wines have a significant level of acidic and medium bodies, but they're low in tannins compared to reds.
Try a bottle of Sono Montenidoli Fiore from the Italian Vernaccia di San Gimignano DOCG. This wine has a crisp, zesty flavor with notes of lemon and herbs. Especially in the United States, many wine lovers aren't aware of this, so you can add an interesting tidbit to dinner conversation (especially if you mention the iconic towers of the city of San Gimignano where the wine comes form). And with 21 USD per bottle, it's also affordable.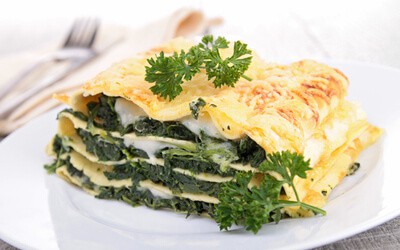 If your recipe is heavy in the mushroom side, consider a lighter-bodied and low-tannin red such as a Pinot Noir such as the Arterberry Maresh Old Vines Pinot Noir from the Dundee Hills AVA in Oregon. At around $45 a bottle, it's a little more expensive than most other best value bottles. But with its bright color, red fruit flavors, and elegant tannins, it's but well worth the price.ce.
Chicken Lasagna and Wine
Chicken lasagna is typically a white sauce-based lasagna that is mild in flavor but very creamy and cheesy. Serve this dish with a bolder white wine like an Oaked Chardonnay from California or South America. A Vermentino is a great pairing too. For instance, the Cantina LaSelva Vermentino Maremma Toscana 2018 comes with flavors of white fruits and bright acidity that can cut through the creamy texture of the lasagna.
If your chicken lasagna recipe happens to use a red sauce, you may consider a stronger red wine, such as the earlier mentioned Chianti or a Merlot. For the latter, consider Laimburg Merlot Riserva Alto Adige from the Italian region of Südtirol. It has a tremendous fruity sweetness with notes of mint and basil and a chocolate finish. 17 USD per bottle is a fair price for this red wine.
Asparagus Lasagna and Wine
Asparagus lasagnas tend to vary dramatically from the traditional preparation. They include ingredients such as sun-dried tomatoes or pancetta instead of the traditional red sauce. For these lasagnas, you have to find a match for the creamy sauce or the accent flavors like the sun-dried tomatoes or pancetta rather than for the asparagus.
For these intense flavors, consider pairing the meal with an acidic wine to help clean the mouth after each bite. Wines such as a Pinot Grigio or a Verdicchio might do very well.
For a Pinot Grigio, try a bottle of Elena Walch Castel Ringberg Pinot Grigio from the Italian Alto Adige DOC. This wine has flavor notes of ripe pears and lime blossoms, with creamy fullness and density. Thankfully, even high-quality Pinot Grigios are fairly well priced. Expect to pay about 25 USD per bottle. Be aware of low-cost bottles. They're often of minor quality and fail to represent the varietal's qualities.
A Verdicchio wine that matches Asparagus lasagna is Sartarelli Tralivio Classico Superiore from the Verdicchio dei Castelli di Jesi DOCG in Italy. It offers flavor of straw, apple blossom, and light spice. You can buy it for about 17 USD.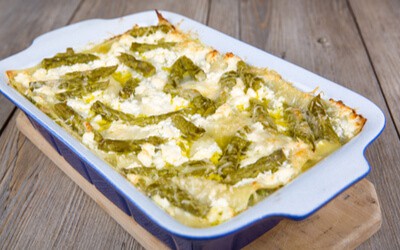 Mozzarella Lasagna and Wine
Mozzarella lasagna differs from traditional lasagna in one specific aspect: It doesn't contain ricotta or bechamel sauce and instead uses only Mozzarella. Typically, these types of lasagna still have a meat sauce or ragu, which provide the flavor you want to compliment with your wine pairing. However, if you're open to experimenting with different wine flavors, try an Aglianico wine from Southern Italy. When young, it's strong in tannins and acidity and has a full body. Older vintages will yield a smoother wine.
Try a bottle of Mustilli' Cesco di Nece' Aglianico Sannio Sant'Agata dei Goti. This deep-colored red wine from Campania in Italy offers musky berry flavors and costs between 15 and 20 USD.
Final Words
No matter what style of lasagna you hope to make or order at your next dinner, there's a wine that will pair beautifully. With a little upfront research, you can make sure that your wine compliments and accentuates your meal's flavor profile.