Chicken is probably one of the most versatile food items you can find. It's used as an ingredient all around the world to create very different delicious dishes. You can find it in light and savory meals, in soups and salads, with spicy and sweet seasonings. If you want to pair chicken and wine, you need to know your meal's flavor profile first. Based on that, you can find the right wine to match it. In this article, you will learn about the best wine and chicken pairings.
Which Wine Pairs With Chicken?
Chicken is white meat. According to the basic rules of food and wine pairing, the right wine to match it should be white too. It should also be equally intense: A light dish pairs with a light-bodied wine, and a more savory meal needs a bolder wine.
Depending on the preparation method and the seasoning, different types of white wine, and in some cases also reds, are the right choice. We'll discuss specific pairings later in this article.
What Is Chicken and How Does It Taste?
Chickens belong to the poultry category. They are the most widespread livestock worldwide. One reason is that breading chicken isn't as expensive as other animals such as cattle or pigs. So even in poorer countries, it's an affordable option. Another reason is that eating poultry is compatible with the rules of most religions. As a consequence, people from all around the world have created chicken dishes with regional ingredients and spices.
Chicken meat has a tender texture but a rather neutral flavor. Especially the breast fillet hasn't much taste of its own. Compared to other types of meat, such as beef or game, it's much less flavorful. To avoid serious health risks, it's necessary to boil it thoroughly before eating it. Thus, it's typically very dry.
The legs and thighs, also called dark meat, are tastier and juicier than the breast fillet. The reason is their higher fat content. The giblets, particularly hearts and livers, are even stronger in flavor.
As mentioned before, chicken meat has to be boiled thoroughly before consumption. So there is no medium-rare or bloody variation. However, the ways to prepare chicken are numerous. Besides boiling, grilling and roasting are the most common methods. The preparation and the seasoning can lead to very versatile flavor profiles.
Which Wine Goes With Which Chicken Dish?
When you are looking for a wine to pair with chicken, first consider the preparation method:
Pair boiled, poached, or roasted variations that you serve chilled with light white wines.
Roasted chicken that is served warm is great with richer whites, Rosé wines, or light-bodied reds.
For grilled dishes, look for a medium- to full-bodied red wine.
Fried chicken often matches with sparkling wines.
These rules give you rough guidelines for pairing chicken and wine. To get a deeper understanding, let's have a look at some specific examples now.
BBQ Style Chicken and Wine
Summer season is also barbeque season. And besides steaks and sausages, chicken is a common food for grilling. There are many ways to prepare BBQ chicken. Based on the marinade and sauce, it can be somewhat mild, sweet, or very savory. The specific seasoning plays a big role in finding the right wine to pair it.
When prepared with a simple marinade, grilled chicken is very versatile. It goes well with light red wine such as Pinot Noir or Gamay.
For herbal marinades, a Garnacha from Spain like Palacios Remondo La Montesa 2017 is an excellent option. And as grilling adds smoky flavors to the meat, you can also pair it with oaked white wines. Try a Chardonnay from the New World, for instance, from the United States or South America.
More Details on New World Wines: COMPARING OLD WORLD WINE VS. NEW WORLD WINE
Typical savory BBQ marinades with smokey and slightly fruity notes require a bolder red wine. Zinfandel is a good choice. Its berry aromas will complement the BBQ flavors superbly. Because of its low level of tannins, it isn't as mouth-drying as many other bold wines. So it's approachable even for wine beginners.
If your marinade is on the sweeter side, you should pick a sweeter wine. An oaked Monastrell wine is an interesting option. It combines a full body and strong tannins with a fruity bouquet and herbal and floral notes. You might even sense meaty aromas in it. This combination is a great pairing for sweet seasonings. Try Elo by Alberto Orte Monastrell 2014 or a similar wine from the Spanish Alicante region.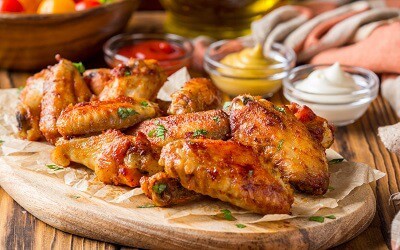 BBQ Chicken Wings with Dips
In case you eat your grilled chicken with a very savory sauce, go for a Cabernet Franc, such as Charles Joguet Chinon Clos de la Dioterie 2015. Its medium tannins and crisp acidity can cut through the sauce, while its aromas of bell peppers, black fruit, and chilis complement the meat flavors fantastically. Alternatively, try a Malbec. In particular oaked Malbec often has an exciting finish of sweet tobacco that combines deliciously with the smokey meat flavors.
To match hot marinades with chili, pick a sweet German Riesling wine. The heat of the chicken seasoning and the sweetness of the wine will counter each other. The result is a delicious well-balanced experience.
Chicken Teriyaki and Wine
Chicken Teriyaki is typically referred to as an Asian style dish, although its origin is unclear. The term "teriyaki" is Japanese and translates to "shiny cooking". But rumors say that this preparation method actually was invented in Hawaii.
Teriyaki is a dark sauce that contains sweet, salty, and often spicy flavors. The main ingredients are soy sauce, cane sugar, Sake (Japanese rice wine), and ginger. In some cases, it also contains sesame oil or garlic.
To pair this flavor profile, you have two options:
First, you can choose a sweet red wine. The Italian sparkling wine Lambrusco is a fabulous option. Its fruity aromas complement the sweet flavors of the sauce, while its fizzyness enhances the experience as a whole. Try Cleto Chiarli Lambrusco Grasparossa di Castelvetro Amabile, for example. If you like it even sweeter, go for Spanish Sherry like Osborne Pedro Ximenez. It has a full body, rich aromas of raisins, chocolate, and toffee, and a smooth finish.
The second option is a fruity white wine. Citrus and flower aromas are a fantastic add-on to Teriyaki style chicken. Look for Chardonnay wines from Australia or New Zealand, for instance, Tolpuddle Vineyard Chardonnay 2018 or Penfolds Max's Chardonnay 2017.
Coq au Vin and Wine
Coq au Vin is a French dish that gourmets around the world know and love. Originally, the main ingredient for it was rooster, but nowadays, most cooks use chicken instead. They season the meat with salt, pepper, parsley, thyme, and bay leaf. Then, they add bacon, onions, garlic, mushrooms, and carrots and simmer it slowly in red wine. Burgundy wines are the most common wines for this purpose.
After at least 90 minutes of simmering, the chicken meat has absorbed all the rich flavors from the sauce. The chicken gets extremely tender and combines savory, spicy, and slightly sweet aromas.
The most apparent wine pairing for Coq au Vin is red Burgundy. As the wine is already an ingredient in the sauce, you don't even need to open a new bottle. Make sure to use one of decent quality, though. If you use it as an ingredient in the meal, it shouldn't be too acidic. Otherwise, it will make the sauce taste sour.
Pinot Noir can be a good match too. Due to its lighter body, it should have a bit of acidity to cut through the savory sauce. The wine's fruity flavors will add deliciously to the flavor profile of the meat. Domaine Drouhin Oregon Pinot Noir 2016 from the Willamette Valley in Oregon is a good pick. It's rather expensive but absolutely worth the price.
Chicken Tandoori
Chicken Tandoori is a rich and spicy Indian dish. The chicken is marinated with yogurt, lemon juice, and a mix of spices, including cayenne, coriander, cumin, ginger, and turmeric. Afterward, it roasts at very high temperatures in a clay oven, called "Tandoor". The result of this preparation method is a bold, juicy meal with smoky and earthy flavors.
The best wine to pair Chicken Tandoori is a red wine with spicy notes. It should have a light to medium body, so it doesn't overpower the meal.
Pinot Noir belongs to this category. It offers both earthy and spicy aroma, such as mushrooms, cloves, and cinnamon, which perfectly complement the Tandoori seasonings. The wines fruity notes round up the flavor profile.
Another nice option is a Gewürztaminer with flavors of allspice, ginger, citrus, and exotic fruits. Gundlach Bundschu Estate Vineyard Gewürztraminer 2018 is worth a try. In addition to the typical fruity and spicy aromas of this varietal, it offers floral notes such as jasmine and rose petals. The high alcohol content and crisp acidity contribute to a well-balanced tasting experience when combined with Chicken Tandoori.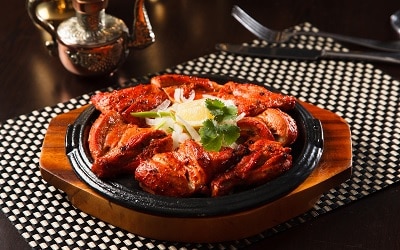 Fried Chicken and Wine
Frying chicken is a common preparation technique in many parts of the world. In the Western world, it sometimes has a bad reputation because many people associate it with the big fast-food franchises. But actually, fried chicken can be delicious when combined with wine.
The right pairing for fried chicken is sparkling wine. The acidity of these wines can easily cut through the fatty, oily texture of the meat. And the fizzyness intensifies its flavors while also cleaning your palate after every bite.
For Western preparations like Southern Fried Chicken, a dry sparkling wine like Prosecco or Champagne is the right choice. Try Cinzano Prosecco or Veuve Clicquot Yellow Label Brut. Especially for very spicy dishes, you can even try a bubbly Rosé, for instance, Canella Brut Rosé.
More Details on Prosecco and Champagne: CHAMPAGNE VS. PROSECCO – WHAT IS THE DIFFERENCE?
Asian style fried chicken offers a broader variety of flavors, combined with a pleasant heat. An excellent counterpart for these meals is a sweet sparkler such as Lambrusco. Pick a Donelli Lambrusco Grasparossa di Castelvetro Amabile.
Moroccan Spiced Chicken and Wine
As the name says, Moroccan Spiced Chicken comes from the Northern-African country Morocco. Its unique characteristic is the typical spice blend that is used to marinate the chicken. It contains garlic, paprika, cardamom, coriander, turmeric, clove, and lemon juice. The resulting meal is fresh with spicy and herbal flavors and subtle fruity notes. Its taste might remind you of Indian food (like Tandoori Chicken) but significantly milder.
The interesting flavor mix of Moroccan Spiced Chicken opens up a couple of possibilities for wine pairing. Ripasso wines from Italy are a good choice. These dark-red wines are medium-bodied and come with flavors of orange peel, berries, pepper, ginger, and notes of chocolate. In combination with the Moroccan spices, wines like Remo Farina Valpolicella Classico Superiore Ripasso 2017, create a fascinating flavor mix.
In case you feel like experimenting, try a dry Rosé from the French Rhone Valley. For instance, Chateau D'Aqueria Tavel Rose 2018 combines intense fruit aromas with mineral notes. Both complement the chicken flavors superbly.
Pollo al Ajillo and Wine
Pollo al Ajillo is a simple meal that originates from Andalucia, a Spanish region on the Mediterranean coast. However, it's popular all over Spain. Unlike many other meals we've discussed so far, Pollo al Ajillo is cooked on the stove. The chicken is prepared with a lot of garlic, lemon, and saffron, and simmers in a white wine sauce until it's done.
To pair this dish, you need a wine that can stand the dominant garlic flavor. If you prefer white wine, acidity is key. Especially New World Sauvignon Blanc wines with intense citrus flavors can counter strong garlic notes. Try Kim Crawford Sauvignon Blanc 2019 from New Zealand or Matetic EQ Coastal Sauvignon Blanc 2019 from Chile.
For red wine lovers, full-bodied Shiraz wines from Australia are good matches. Their complexity can soften the garlic notes and add exciting aromas. For example, Yalumba Samuel's Collection Shiraz 2017 from South Australia provides flavors of dark fruits and green herbs as well as earthy and mineral notes.
Chicken Salad and Wine
Especially on hot summer days, a chicken salad is a great lunch meal. It's refreshing and light, but with the chicken slices, it can satisfy your hunger anyhow. The meat is seasoned with rather unintrusive spices such as salt and pepper, then grilled and poached, and finally mixed with the other ingredients. Typically, these ingredients are various vegetables like lettuce, celery, onions, or tomatoes. The most common topping is a mayonnaise-based dressing.
This creamy chicken salad goes well with light white wines with fruity bouquets. Albariño is one of these wines. It comes from the Iberian Peninsula and offers aromas of lime, grapefruit, honeydew, and nectarine. The crisp acidity and the subtle tannins make it a refreshing beverage. And due to its low alcohol content, you can enjoy a glass for lunch without getting tipsy.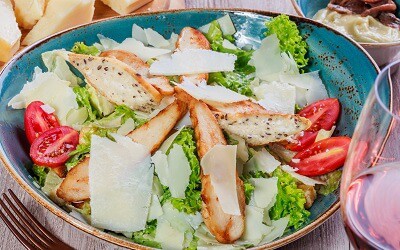 Try, for example, Torres Pazo das Bruxas Albarino 2018 from the Galicia region in the northwestern part of Spain. Its excellent balance of sweet flavors and fresh acidity matches the flavor profile of chicken salad perfectly.
A more experimental choice is oaked Chardonnay. It's significantly bolder with higher alcohol content, and also drier than Albariño. Nevertheless, a rich Chardonnay with creamy aromas of vanilla and butter can pair very well with a similarly creamy chicken salad. A wine such as Rombauer Chardonnay 2018 from California complements the fresh salad with fruity flavors of peach, pineapple, and mango.
Chicken Paprikash and Wine
Chicken Paprikash (or Paprikás csirke) is a classic from Hungary. This savory dish is famous for its flavorful sauce. It contains tomatoes, sweet paprika, onions, pepper, flour, cream, and sour cream. Typically, Chicken Paprikash is accompanied by either Galuska (also: Spätzle), a German type of egg noodles, or boiled potatoes.
If you want to try a wine from the same region as this meal, go for Furmint. This white varietal produces the famous Hungarian dessert wine Tokaji. Tokaji can be sweet or dry, and the latter one is the right match for Chicken Paprikash. Try Oremus Tokaji Dry Furmint Mandolas 2017. Its mineral and fruity aromas are a great pairing for the creamy tomato-based sauce.
More Details on Tokaji: WHAT IS TOKAJI WINE AND WHERE DOES IT COME FROM?
Pinot Noir is a red alternative that you can drink with Chicken Paprikash. The ripe red and black fruit aromas in Pannonhalmi Foapatsag Pinot Noir 2018 complement the smoky paprika flavors perfectly.
Parmesan Chicken and Wine
Originally, the Italian dish that we know as Parmesan Chicken was no chicken dish. The main ingredient was eggplant. But in the second half of the 20th century, it was replaced by the tender poultry meat.
With tomatoes, mozzarella cheese, and basil, the sauce is a thick, creamy topping for the chicken. Grana Padano cheese for scalloping the meat adds even more richness.
It won't surprise you that Italian wine is the right pairing for Parmesan Chicken. Chianti, with its medium body, zippy acidity, and well-balanced tannins, is a fantastic option. Try Castello di Monsanto Chianti Classico Riserva 2016. Its fruit-forward bouquet is a great add-on to the creamy tomato sauce.
Bold Cabernet Sauvignon wines are an option too, for instance, Belguardo Maremma Toscana 2013. This high-quality wine comes with intense black fruit aromas and notes of tobacco and leather. It's complex enough to stand up against the rich flavors of the chicken dish.
Chicken Lemonato and Wine
Chicken Lemonato is a whirlwind of flavors. This Greek dish offers spicy flavors from garlic and mustard, herbal aromas of oregano, fruity lemon taste, and sweet notes of honey. The chicken is baked with all of these ingredients in the oven. Typically it's served with crispy baked potatoes and creamy Tzatziki.
A delicious wine to drink with Chicken Lemonato is German or Austrian Riesling. Domane Wachau Federspiel Terrassen Riesling 2016 is a good example. It offers delicate citrus flavors that greatly match the lemon notes, while the crisp acidity can counter the garlic.
If you prefer red wine, go for Guy Amiot Bourgogne Rouge 2016 or a similar Pinot Noir wine. It's fruity and acidic as well, but with more perceptible tannins.
Final Words
With the variety of preparations and flavors, it can be challenging to pair chicken and wine. After reading this article, you are prepared for this challenge. Try different wines to find out which one you like best with your meal, and don't shy away from experimenting. You might find a new exciting flavor pair.