Thanksgiving is one of the most important American holidays, and food is an essential component of it. When friends and family gather around the table, the hosts typically serve turkey with a lot of complementing side dishes. And in many cases, the meal comes with a bottle of wine. But which turkey and wine pairing is the best?
Which Wine Pairs With Turkey?
The right wine to pair with the white meat of turkey is a light wine. A white wine with crisp acidity and fruity aromas is best for light dishes. For more savory dishes, a red medium-acidic and low-tannin wine is a good choice.
The perfect wine for your meal depends on the meat's seasoning and the side dishes you serve. In the following sections, we'll talk about six popular turkey dishes and the wines that work best with them.
What is Turkey and How Does It Taste?
Turkey is a type of poultry and belongs to the category of white meat. In the United States, about 6 billion pounds of turkey meat are produced each year.
Chefs distinguish between the light breast meat and the darker meat of the tights and legs. The breast meat is succulent but has a neutral taste. Typically, it's even less flavorful than chicken. The dark meat has a higher fat content and, thus, a richer, juicier flavor.
For wild turkeys, this distinction isn't as clear as for domestic turkeys. Their breast meat is rather dark, too, and has a more intense flavor. You might even find it comparable to game.
Turkey and Wine Pairing Rules
As mentioned before, turkey has a neutral flavor. Thus, the seasoning and the side dishes are crucial when choosing the wine to pair with your meal. In general, white wine is the best choice for a light dish, and red wine is fine with a richer meal. Depending on the seasoning, even a sparkling wine can be a good match.
Let's talk about some of the most common turkey preparations and the wines that pair with them.
Roasted Turkey
The traditional Thanksgiving meal is an oven-roasted turkey. It gets its flavors from spices such as salt, pepper, garlic, thyme, and rosemary that are spread on and under its skin. After roasting for about two hours, the meat is tender and juicy with a well-flavored, crispy skin.
The classic pairing for this preparation is a Chardonnay wine. This white wine combines a crisp acidity with a fruit-forward flavor profile and a medium body. It matches not only the herbal aromas of the roasted turkey but also the fruity flavors of a cranberry sauce. Pick an Old World Chardonnay, for instance, from France:
Louis Jadot Puligny-Montrachet
Bouchard Pere & Fils Pouilly-Fuisse
New World Chardonnay from the United States or Australia can be a good match for very intensely flavored roasts. When oaked, they have a fuller body that can stand even very rich preparations. They are great, in particular, if your meal has some smokey notes.
Jam Cellars Butter Chardonnay
Kendall-Jackson Grand Reserve Chardonnay
More Details on the Old World and the New World: COMPARING OLD WORLD WINE VS. NEW WORLD WINE
If you prefer red wine with your Thanksgiving meal, there are some great options for you, too. With its light body and lively acidity, Pinot Noir is a delicious match for roasted turkey. It works with different seasonings, savory side dishes, and fruity sauces. Old World wines are light and refreshing with aromas of red fruits and subtle tannins:
Joseph Drouhin Laforet Pinot Noir
Bouchard Pere & Fils Reserve Bourgogne Pinot Noir
American Pinot Noir is somewhat bolder. It offers intense aromas of black fruits and spices, and subtle earthy and herbal notes. Try these wines from the Willamette Valley in Oregon:
Cristom Jessie Vineyard Pinot Noir
Willamette Valley Vineyards Whole Cluster Pinot Noir 2018
Turkey Tacos
Originating from Mexico, tacos get more and more popular as a quick snack in the United States. They can be served cold or hot, with a variety of ingredients, and different seasonings. By the way, turkey tacos are a great day-after dish to use the leftovers of your Thanksgiving meal.
The turkey is usually flavored with classic taco seasonings, including garlic, cumin, chili, paprika, or black pepper. The right wine to complement this flavor profile is a fresh German Riesling with citrus aromas. Especially sweet Rieslings can counter the spicy heat of the tacos. Look out for Kabinett or Spätlese wines:
Dr. Thanisch Bernkasteler Badstube Kabinett Riesling
Schloss Vollrads Riesling Kabinett
In case you don't have a sweet tooth, a dry Riesling might do the job as well. Citrus flavors are key, and crisp acidity is necessary to cut through the spicy heat. Try, for instance, a Washington State Riesling:
Pacific Rim Dry Riesling
Chateau Ste. Michelle Dry Riesling
An off-dry Vinho Verde from Portugal is a good alternative, and you can also try a red Gamay. They both are light and fruity, but less sweet than Riesling:
Joao Portugal Ramos Alvarinho
Chateau Thivin Brouilly Reverdon
Turkey Burgers
Burgers are the cornerstones of every barbeque. Sure, Thanksgiving isn't a typical occasion for a barbecue, but turkey recipes are not Thanksgiving-exclusive. And turkey burgers definitely are an excellent meal for a summertime barbecue.
While burgers are typically made of beef, turkey is a lighter alternative. Unfortunately, it's also less flavorful. Turkey burgers are made from ground turkey that hasn't been heavily seasoned. Thus, the toppings determine the dominant flavors of the burger, and your wine should match them.
Rosé wine is a delicious match for light, mild preparations with a mild seasoning. A pink wine with fruity flavors of red berries and herbal notes is just perfect. It complements the turkey without overpowering it. And it's also light enough to be a proper choice for a hot summer day.
Planeta Rosé
Pratsch Organic Rosé
If you choose richer toppings like bacon or blue cheese, a Pinot Noir might be the better pick. As said, it's on the light side so that it won't dominate the overall experience. But it offers more earthy aromas that pair superbly with the savory toppings. Here are some options for you:
Argyle Pinot Noir
Melville Sta. Rita Hills Estate Pinot Noir
Cajun Style Turkey
The Cajun cuisine combines influences from Spain, France, and West Africa to an exquisite flavor experience. It's famous for the variety of ingredients that are used to season meals. They include hot spices like cayenne pepper, chili, garlic, and herbs such as basil, oregano, parsley, and thyme.
Cajun turkey typically is prepared similarly to the traditional Thanksgiving turkey: After seasoning, it roasts for around two hours until the meat is tender and the skin is crispy. By that time, it has soaked up all the different aromas from the herbs and spices. The result is a delicately spicy dish that is best served with side dishes like sweet potato pone, coleslaw, and gravy.
An interesting wine to pair with Cajun turkey is Champagne. With its fine bubbles, the French sparkling wine helps counter the meal's heat by cleaning your palate after each bite. At the same time, its acidity can cut through savory side dishes. Its citrus aromas complement the Cajun flavors excellently, and with the rather low alcohol content, it's the right choice for a long multiple-course meal. Instead of Champagne, you can also pick an Italian Prosecco.
Veuve Clicquot Yellow Label Brut
Piper-Heidsieck Cuvee Brut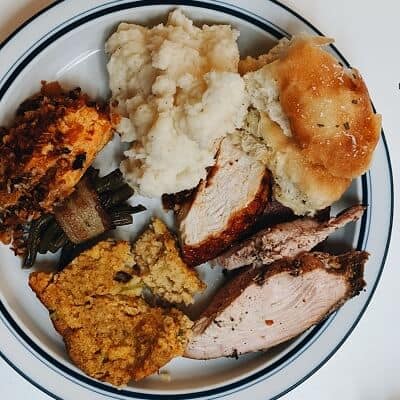 Cajun Style Turkey Dinner
More Details on Champagne and Prosecco: CHAMPAGNE VS. PROSECCO – WHAT IS THE DIFFERENCE?
If you like sweet wine, you should try Ice Wine with your Cajun turkey. Its incredible sweetness is an awesome counterplayer to the meat's heat. The fruity aromas like peaches or nectarines are a delicious add-on to the seasoning. And when served properly chilled, the wine's temperature can cool down your palate. For the traditional experience, try a German Eiswein. Alternatively, you can go for a Vidal wine from Canada.
Turkey Pasta
Turkey might not be the first ingredient that comes to mind when thinking about pasta. But you can use it for many dainty dishes. And an awesome pasta dish is another useful way to process your Thanksgiving Day leftovers.
Stroganoff is one of many great options. The savory sauce made from tomatoes, cream, onions, and mushrooms is a fantastic topping for pasta and turkey. Another delicious tomato-based dish is pasta with turkey-ricotta meatballs. Like Stroganoff, it's a lavish meal with a creamy texture and fruity aromas.
The best wine pairing for this kind of savory turkey pasta is Chianti Classico. The high-quality Italian blend is medium-bodied with robust tannins and high acidity. With these characteristics, it's perfect for cutting through the savory tomato sauce.
Tenuta di Nozzole Chianti Classico Riserva
Viticcio Chianti Classico Riserva
In case you prefer lighter pasta dishes, for instance with spinach, broccoli, or green pesto, your wine must be lighter too. Try a dry Italien white wine with crisp acidity like Gavi or Soave:
La Scolca White Label Gavi
Broglia Gavi La Meirana
Inama Vigneti di Carbonare Soave Classico
Suavia Monte Carbonare Soave Classico
Turkey Soups and Stews
Finally, turkey is a common ingredient for different types of soup. Whether you prefer a thin soup or a creamy stew, all of these variations are great leftover dishes. Typically, they contain vegetables such as bell peppers, peas, carrots, onions, or celery and spices like pepper, thyme, sage, and bay leaves.
When choosing a wine, you have to make sure that it doesn't overpower the soup's flavors. Most red wines are too full-bodied, even for creamy soups. The same goes for bold oaked whites from New World wine countries. A Burgundy Chardonnay is an excellent choice. It's acidic enough to stand even a savory stew without dominating it.
More Details on Burgundy Wines: WHY IS BURGUNDY WINE SO GOOD (AND SO EXPENSIVE)?
Slightly oaked Chardonnay from Canada or Oregon might be a good match too.
Domaine Faiveley Bourgogne Blanc Chardonnay
Louis Jadot Chardonnay
Final Words
With the right turkey and wine pairing, your Thanksgiving dinner will be an excellent experience for loved ones. And in this article, you've learned everything to create these pairings. Be aware that some people have a strong preference for red or white, sparkling or still wine. Consider buying a bottle of each to please all of your guests or try a wine that they haven't known before.