Sparkling wine is the beverage of festivities. Whenever it's time for a toast to an anniversary, a wedding, a profitable deal, or another event worth celebrating, a bottle is nearby. Among the many different types, Champagne and Prosecco are the best-known sparkling wines. But only a few people can name the differences between their characteristics.
Champagne is a high-quality French sparkling wine made from Chardonnay, Pinot Meunier, or Pinot Noir grapes. It can be white or rosé. The same is true for Prosecco, which comes from Italy and is made primarily from white Glera grapes.
Both sparkling wines are very good, although they are made following different production techniques. They also differ in taste and in price. In this article, we will discuss the differences between Champagne vs. Prosecco in detail.
DIFFERENCES BETWEEN CHAMPAGNE AND PROSECCO
| | | |
| --- | --- | --- |
| | CHAMPAGNE | PROSECCO |
| Origin | Champagne, France | Veneto & Friuli Venezia Giula, Italy |
| Grapes | Pinot Meunier, Pinot Noir | Glera |
| Production Method | Traditional Method | Charmat Method |
| Characteristics | bone-dry, acidic | dry, acidic |
| Primary Aromas | citrus flavors | green fruits, citrus, floral aromas |
| Alcohol Content | 12% | 10.5 – 11.5% |
| Price (Bottle of 750ml) | 40+ USD | 15+ USD |
Champagne vs. Prosecco Comparison
Champagne vs. Prosecco: Origin and History
Champagne wines come from the region with the same name: The Champagne is in the northeast of France, with the cities of Epernay and Reims in its center. Since the 5th century, the region has been famous for its wine production. The first Champagne wines were of pink color, pale, and still, though. It was not until the 17th century that winemakers started producing the white sparkling wine that is popular worldwide today.
Prosecco originates from two regions in the northeast of Italy: Friuli-Venezia Giulia, which borders Austria and Slovenia, and its neighbor region Veneto with its capital Venice. The name Prosecco was mentioned for the first time in the late 16th century. But Prosecco, as we know it today, is an invention of the 1960s. Until then, it was rather sweet and tasted similar to Asti, another popular Italian sparkling wine.
Champagne vs. Prosecco: Grape Varieties
Champagne vintners use white Chardonnay grapes and red Pinot Noir and Pinot Meunier grapes to produce their sparkling wines. Besides, they use portions of Arbane, Pinot Blanc, Pinot Gris, and Petit Meslier. All of the grapes must be grown in the region of Champagne. Otherwise, the resulting wine can't carry the name Champagne.
Prosecco has to be made from at least 85% white Glera grapes. The remaining 15% consists of other grapes like Pinot Grigio, Chardonnay, or Perera. To carry the name Prosecco, winemakers must cultivate all grapes in Northern Italy.
Champagne vs. Prosecco: Production Methods
Both Champagne and Prosecco go through two phases of fermentation. The first phase is the same for both types, and it's similar to table wine production. But for the second phase, winemakers use different approaches.
French winemakers use the "Méthode Champenoise" (English: the Champagne Method), also called the "Traditional Method", to make Champagne. First, they blend different still wines to create the base wine. Typically, this base wine is rather harsh as the grapes for it are harvested early in the year and do not accumulate much sugar until then.
Next, the vintners fill the wine into big glass bottles. They add sugar and yeast and seal the bottles. The yeast then starts to consume the sugar slowly. During this second fermentation process, more alcohol is produced, but also more carbon dioxide, which provides the bubbly experience.
Finally, the Champagne ages for several years before the filtering, refining, and bottling take place.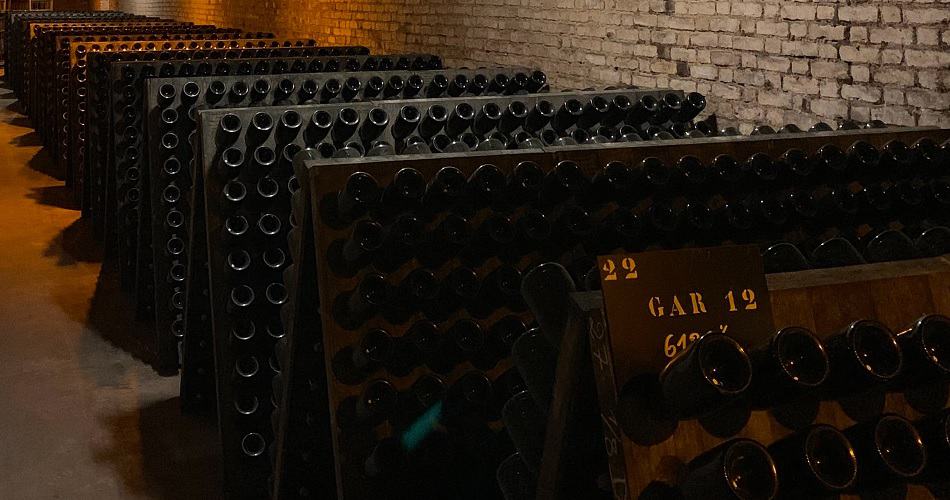 To make Prosecco, winemakers use the "Charmat Method" (also: "Italian Method"). They produce a still base wine by gently pressing grapes. Then, they leave the wine must in a steel tank so it settles. Next, they add the yeast that transforms the natural sugar of the must into alcohol. This first fermentation phase takes 15 to 20 days.
The next step is blending: The vintners mix the base wine with other still wines and transfer it into pressurized tanks. By adding sugar and yeast, they provide the conditions for the ongoing production of alcohol and carbon dioxide. Once the wine has reached the desired level of alcohol, the winemakers remove the remaining yeast and filter and bottle the Prosecco.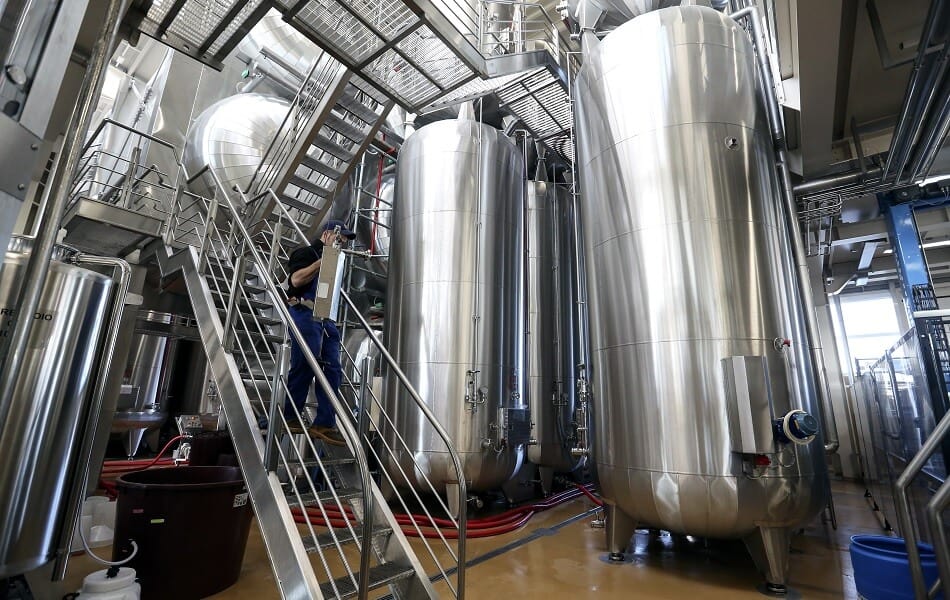 Champagne vs. Prosecco: Taste and Characteristics
Both sparklers come in different styles that can reach from bone-dry to sweet. However, we can make some distinctions when comparing Champagne vs. Prosecco:
Champagne is typically dry, high in acidity, and has an alcohol content of around 12%. It comes with flavors of citrus fruits, cherries, peaches, and almonds. In some cases, it develops aromas that might remind you of cheese rinds. As it ages for a significant amount of time, its bubbles are fine and persistent.
Prosecco, on the other hand, tends to be sweeter and has more flowery and fruity aromas. It comes with slightly less alcohol than Champagne: between 10.5% and 11.5%. Expect to taste green fruits like apples or pears. High-quality Prosecco wines also can contain notes of tropical fruits, vanilla, or cream.
Pairing Champagne and Prosecco with Food
Most people associate Champagne or Prosecco with celebrations or Hors d'Oeuvres receptions rather than with a dinner party. But both sparkling wines also have great potential for delicious food pairings.
Try Champagne with shellfish, tuna carpaccio, and pickled vegetables. It also matches many fried dishes like fried chicken.
Prosecco goes well with spicy Asian dishes and starter courses like salads or melon wrapped in prosciutto. You can also try it with cured meats or with Italian specialties like Panettone, a delicious sweet bread.
Champagne vs. Prosecco as Ingredients for Cocktails
It's common to mix Prosecco with sparkling water or orange juice to create a beverage that's still sparkling but significantly lower in alcohol. Besides, it's also a fantastic ingredient for many cocktails.
Prosecco Cocktails
Aperol Spritz: This popular Italian cocktail contains 3 parts Prosecco, 2 parts Aperol, and soda. Serve it on the rocks.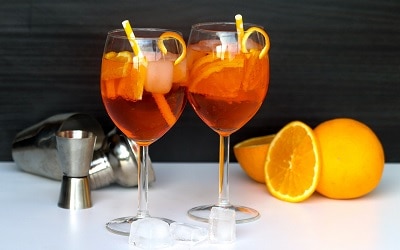 Grapefruit Spritz: A variation of the Aperol spritz with 2 parts Prosecco, 2 parts grapefruit juice, and 1 part Aperol. Served with ice and a twist of grapefruit zest.
Prosecco Pomander: Mix 3 parts Prosecco with 1 part Cointreau and the juice of a clementine. Garnish it with rosemary and a slice of clementine.
Bellini: Another classy cocktail from Italy. Mix 2 parts of peach puree (or nectar) with 1 part Prosecco. Serve it in a Champagne flute.
Pomegranate Rosemary Spritzer: A deep pink cocktail that combines the sparkling Prosecco experience with herbal notes. Boil 200 ml of pomegranate juice with a sprig of rosemary until it has a syrup-like consistency. Let it cool down, and mix 1 part of the syrup with 3 parts Prosecco.
Champagne Cocktails
Champagne, on the other hand, usually is served pure. But you can also create delicious Champagne cocktails:
Ernest Hemingway's Death in the Afternoon: Pour 1 part of Absinthe into a glass. Add 3 parts iced Champagne until the mix clouds up.
Black Velvet: An exceptional mix of 1 part Guinness Stout beer and 1 part Champagne. Fill the beer in a glass, top it with Champagne, and slowly stir the mixture.
Mimosa: Combine 1 part fresh-squeezed orange juice and 2 parts Champagne in a champagne flute.
Blushing Mimosa: A variation of the Mimosa with a look similar to a Tequila Sunrise. Mix 2 parts of orange juice with 1 part pineapple juice. Fill ⅔ of a champagne flute with the juice mix and top it with Champagne. Carefully add a shot of Grenadine until the bottom part of the glass turns pinkish.
Atomic Champagne Cocktail: Mix 1 part of vodka and 1 part of brandy with a small shot of sherry and cracked ice. Strain the mixture into a chilled cocktail glass and top it with 1 part Champagne.
CHAMPAGNE VS. PROSECCO: PRICE
Due to its cost- and labor-intensive production process, Champagne is one of the most expensive types of sparkling wine. A good entry-level Champagne costs around 40 USD per bottle of 750 ml. High-quality Vintage styles can cost several hundreds of dollars.
Prosecco is more affordable than Champagne. You can find good-quality styles for as little as 15 to 20 USD. High-end Prosecco is available for around 50 USD per bottle.
type: white, sparkling
origin: Veneto, Italy
varietal: Glera
alcohol: 11.0%
type: white, sparkling
origin: Veneto, Italy
varietal: Glera
alcohol: 11.0%
Fantinel One and Only Prosecco Brut 2017
type: white, sparkling, Vintage
origin: Friuli-Venezia Giulia, Italy
varietal: Glera
alcohol: 12.0%
FINAL WORDS
There are numerous differences between Champagne and Prosecco. Both have long traditions that make them exceptional beverages to drink on their own or paired with delicious foods. To experience the differences yourself, try them both, and decide which one you like better.
Recent Posts