Which are the first names that come to your mind when thinking about sparkling wine? Probably Champagne, Prosecco, or German Sekt. Most of these wines are dry. But there are some excellent sweet sparklers. One of them is Lambrusco.
Lambrusco is a sparkling red wine from Northern Italy. The sweet styles are best-known, but actually, the wine can be off-dry or dry, too. While it had a rather bad reputation in the 1970s and 80s, it offers a great price-quality ratio nowadays.
Let us talk about the characteristics of Lambrusco as well as the production process in more detail.
WHERE DOES LAMBRUSCO COME FROM?
Lambrusco comes from Northern Italy. Italian wine laws differentiate five DOC regions where the production is allowed:
Lambrusco Grasparossa di Castelvetro: This is the home of the boldest styles with dominant tannins and intense flavors of black fruits.
Lambrusco di Sorbara: The lightest variations come from this area. They are dry with refreshing acidity and fruity and floral aromas.
Lambrusco Salamino di Santa Croce: Wines from this appellation typically have an outstanding balance of sweetness and tannins, giving them a fantastic structure.
Reggiano Lambrusco: Reggiano wines can be deliciously sweet, especially when made from Salamino grapes. But you can also find great dry wines.
Lambrusco Mantovano: This appellation in Lombardy is the only one outside the Emilia-Romagna region where vintners may make Lambrusco wines. Usually, these wines are dry or semi-dry.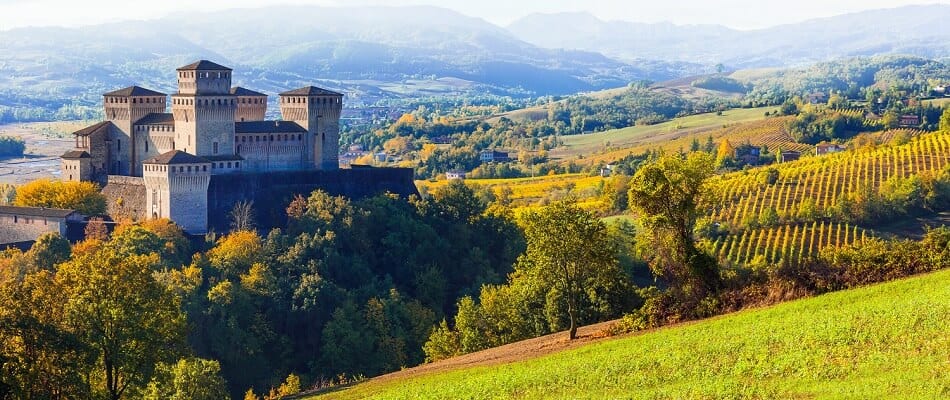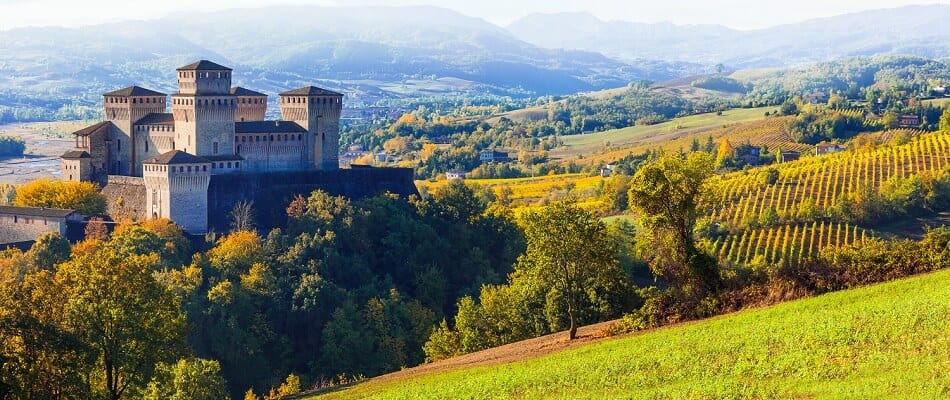 WHAT IS LAMBRUSCO MADE FROM?
Lambrusco wines are made primarily from six varietals belonging to the Lambrusco family. They are called:
Grasparossa
Maestri
Marani
Montericco
Salamino
Sorbara
Typically, vintners use two or more of these varietals to make their wines. Also, they commonly blend them with other grapes such as Ancellotta, Cabernet Sauvignon, or Marzemino. According to Italian wine laws, the added grapes can contribute to up to 15% of the wine.
HOW LAMBRUSCO IS MADE
Lambrusco's making is comparable to the production of other sparkling wines.
The harvest occurs relatively early in the year, so the grapes are not too rich in sugar. After crushing them, vintners process them into a still base wine.
Next, the second fermentation follows, during which the wine gets its fizziness. During this phase, vintners have two options:
Producers who make entry-level wines follow the Charmat method. They fill the still base wine into large steel tanks and start the second fermentation. As the carbon dioxide, created during the transformation of sugar into alcohol, cannot escape from the tanks, it stays in the wine and gives it the typical fizz.
Alternatively, vintners can follow the traditional method that Champagne producers also use. They transfer the still base wine into bottles and start the fermentation therein. While the effort required for this method is significantly higher, the resulting wines are more elegant than those made with the Charmat method.
HOW DOES LAMBRUSCO TASTE?
Lambrusco can range from dry to sweet. Dry styles typically offer earthy, savory, and mineral aromas and have an alcohol content between 11 and 12%. The sweeter variations are lower in alcohol; commonly, they have around 8% vol. In terms of flavors, they feature red, black, and tropical fruits as well as floral and herbal notes.
Entry-level wines are usually one-dimensional, with only one or two dominant aromas. In contrast, high-quality styles are more complex, with multiple layers of aromas that complement each other.
Are All Lambrusco Wines Sweet?
Italian winemakers produce various styles of Lambrusco:
Wines labeled as dolce are the sweetest styles (and also the best-known). They have more than 45 grams of sugar per liter of wine.
Amabile wines are semi-sweet, with 30 to 50 grams of sugar per liter.
Off-dry styles are called semisecco. Their sugar content ranges between 12 and 30 g/L.
Secco wines are dry. Nevertheless, they can have up to 15 g/L. Because of their outstanding balance of acidity and carbon dioxide, the sweetness is almost not perceivable, though.
The level of sweetness does not allow any conclusions regarding the quality; both sweet and dry styles can be excellent.
Can Lambrusco Be White?
Original Lambrusco wines cannot be white. Italian wine laws protect these wines from the DOC regions, and they mandate that they are red.
However, winemakers from other parts of the world are not subject to Italian laws. They are free to use the grapes and process them into all types of wine. Thus, you can find whites as well as rosés that are labeled as Lambrusco. These wines do not fulfill the quality requirements of the Italian original, though.
Are All Lambrusco Wines Sparkling?
The original DOC wines from Northern Italy are always sparkling or semi-sparkling. But as Lambrusco grapes are available worldwide, wines from other regions can be still.
HOW TO SERVE LAMBRUSCO
Like other sparklers, Lambrusco is a proper choice for a toast when celebrating. With this red, sweet drink, you might surprise your guests, who expect a traditional dry Champagne or Prosecco.
But as we will discuss later in this article, the red Italian sparkling wine pairs very well with different types of food. So, you can also serve it with the main course or dessert during a dinner party.
What Is the Right Glass for Lambrusco?
The best glass for serving sparkling wines is a champagne flute, and Lambrusco is no exception. The long, narrow bowl of the glass keeps the wine fresh and fizzy, while the long stem keeps the drinker's hand away from it to avoid heating it.
What Is the Right Serving Temperature for Lambrusco?
Lambrusco should always be chilled when you serve it. Aim for a temperature of 50 to 54°F (10-12°C).
HOW TO STORE LAMBRUSCO
Like all still and sparkling wines, Lambrusco is vulnerable when you do not store it correctly. The best place is a dark and cool room with no exposition to sunlight. You can store the bottles either standing or lying on their sides. In any case, you should keep them away from vibrating devices like air conditioning and from chemicals with intense smells.
Can Lambrusco Be Aged?
Lambrusco sparkling wines have no aging potential at all. They are made for immediate consumption, so it does not make sense to store them for a long time. Enjoy them within 1 to 2 years after buying them at the latest.
Can Lambrusco Go Bad?
Exposure to air, sunlight, or heat can cause it to spoil. So a flat taste or an unpleasant vinegar-like aroma might indicate that the bottle has a leak or was stored improperly.
How Long Does Lambrusco Last When Open?
As soon as you open a bottle, you should consume it within 2 to 3 days. Make sure to reseal it with the original cork or a plastic stopper and put it into the refrigerator.
FOOD PAIRINGS
Most wines pair perfectly with food from their home region. In this case, that is true as well. So serve Lambrusco with Prosciutto from Parma, regional salami like Finocchiona, or aged hard cheeses such as Parmigiano Reggiano. Also, you can try it with Pizza, especially when topped with Italian meat specialties.
Even beyond regional borders, these Italian sparkling wines are surprisingly food-friendly. Depending on their level of sweetness, you can pair them with various kinds of food.
The sweet sparklers are excellent pairings for spicy foods, particularly curries from Asian cuisines. While the sweet aromas create an interesting contrast to the spices, the bubbles help clean your palate and make the heat more bearable.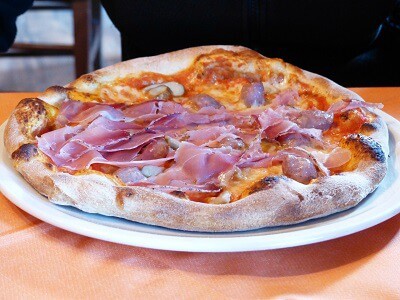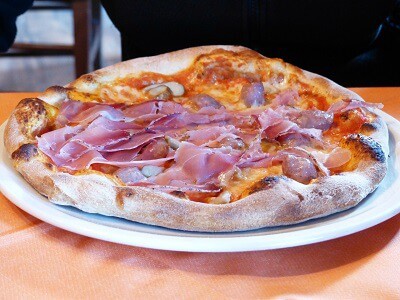 Of course, sweet variations are also great with dessert, given that the dish is not too sweet. Chocolate-based desserts might overpower the wine. But fruity cakes or pastries with cream are awesome matches.
Dry, full-bodied styles pair very well with BBQ meats. For instance, enjoy them with a German Bratwurst with Sauerkraut and spicy mustard. Other fantastic pairings are roasted lamb, ribs, and grilled chicken.
LAMBRUSCO SHOPPING TIPS
When looking for Lambrusco wines, search for the original from Northern Italy. Most styles are affordable, but they might be hard to find in the United States. Check out these bottles:
FINAL WORDS
Sweet sparkling wine might not sound very appealing at first. But actually, Lambrusco is a delicious beverage, and it is surprisingly food-friendly. So why not serve your guests this excellent red sparkler at your next dinner party?
Recent Posts