Dry and light white wines are popular among many wine lovers. They not only pair excellently with many dishes, but they are also enjoyable on a hot summer day. While most connoisseurs know delicious wines from Burgundy or the Côtes du Rhône region, others do not get the credit they deserve. One of these overlooked wines is Muscadet.
Muscadet is a white wine from the Loire Valley region in France. It is made from Melon de Bourgogne grapes, and it is usually light-bodied, very dry, and high in acidity. Most styles feature intense citrus and mineral aromas.
Muscadet wines have an interesting history, and still, their production process is unique. In this article, we will cover both topics as well as the best ways to enjoy these wines.
Source of Title Picture: Julien Scavini / CC BY-SA 4.0)
WHERE DOES MUSCADET COME FROM?
Muscadet wines come from the western end of the Loire Valley in West France. The appellation spreads around Nantes from the mouth of the Loire river to the city of Angers.
Vintners cultivate a total of about 8,400 hectares (20,700 acres) of vines. Most of them belong to one of three sub-appellations:
Muscadet Sèvre-et-Maine covers the area in the east and southeast of Nantes around the rivers Sèvre Nantaise and Maine. It's the biggest and most famous sub-appellation, with around 8,000 hectares (19,000 acres) and about 600 different producers.
With about 300 hectares (740 acres), the Muscadet Côte de Grandlieu appellation is much smaller. All vineyards that produce wines with this label are located around the Lac de Grand Lieu, a large natural lake just southwest of Nantes.
The smallest sub-appellation Muscadet Coteaux de la Loire is to the northeast of Nantes. Less than 50 producers engage in winemaking there.
Wines that do not meet the requirements for one sub-appellations carry the label Muscadet AOC. Most of them are entry-level wines that are inferior to the wines from the sub-appellations, though.
Is Muscadet a Dessert Wine?
Muscadet is not a dessert wine. Dessert wines are sweet and often significantly stronger in alcohol than table wines. As an extremely dry and light-bodied table wine, Muscadet does not belong to this category.
Is Muscadet the Same as Moscato?
Muscadet and Moscato are not the same. Muscadet is a dry, light-bodied table wine. In contrast, Moscato wines are on the sweet side. They are made around the world from 200 different varietals of the Moscato family.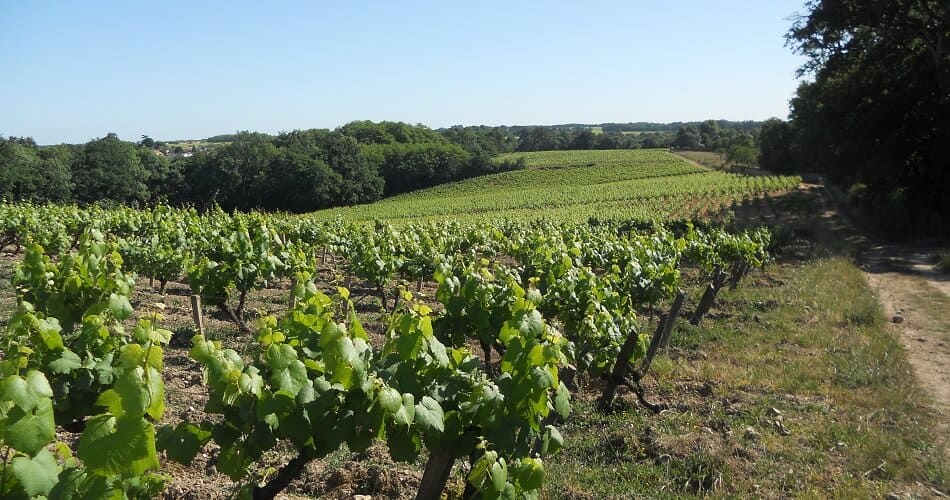 These white grapes are known for their high acidity, but they also develop only a little flavor. This flaw was the reason that the varietal was banned from Burgundy in the early 18th century. Nevertheless, it became the dominating grape in the Loire Valley because it is very frost-resistant and can stand the region's harsh winters. It also ripes early, so it is less prone to mildew that often hits vines in late fall.
Is Muscadet the Same as Muscat?
Muscadet is not the same as Muscat. Muscat is another name for Moscato, a family of grapes many vintners use to make sweet wines. Other synonyms for the same grape family include Moscat, Moscatel, and Muscadelle.
Is Muscadet the Same as Muscadine?
Muscadet and Muscadine are not the same. Muscadine is a grape that is native to the United States. Vintners cultivate it from the Central South to the Atlantic Coast and produce various wines from it.
THE MUSCADET GRAPES
Muscadet wines are made from a varietal called "Melon de Bourgogne" (short: Melon). Its name hints at its origin: The Bourgogne (English: Burgundy) region in central France. Genetically, the variety is a crossing between the two white grapes Pinot Blanc and Gouais Blanc.
HOW IS MUSCADET MADE?
In general, it undergoes the same production stages as other table wines. This includes pressing, fermentation, and aging. Some aspects are pretty special, though:
Melon de Bourgogne grapes ripen early in the year. Typically, vintners harvest them in early September when they still contain plenty of acidity.
Many wines age in barrels or steel tanks after fermentation while they are in contact with the lees (dead yeast cells). Because of that, they incorporate yeasty aromas and additional structure during that time. You can recognize these wines by the suffix "Sur Lie" (English: on the lees) on the bottle label.
According to French wine laws, a wine has to spend at least one winter on the lees to carry it.
When aged on the lees, vintners may not filtrate the wine.
HOW DOES MUSCADET WINE TASTE?
Muscadet wines are white and light-bodied with a low amount of alcohol. They are bone-dry and high in acidity, making them fresh and zesty beverages. Typically, these wines offer intense aromas of citrus, such as lemon and lime, as well as green fruits, including apples and pears.
The wines have a denser texture when aged on the lees and showcase strong yeasty flavors.
Can Muscadet Wines Be Red?
Muscadet wines are always white. However, you can find reds that come from the same regions but carry other names. For instance, red wines labeled "Coteaux d'Ancenis" come from the same area as Muscadet Coteaux de la Loire.
Can Muscadet Wines Be Rosé?
There are no Muscadet rosé wines. Should you come across a rosé wine labeled as that, it definitionally is not an original from the Loire Valley.
Can Muscadet Wine Be Sweet?
Muscadet wines are never sweet. They contain only a very small amount of residual sugar and range from dry to bone-dry.
HOW TO SERVE MUSCADET WINE?
Muscadet wine is light and low in alcohol, so you can even enjoy a glass for lunch without getting tipsy. For the same reason, it is a fantastic choice for outdoor parties on hot days. However, you should ensure it has the right temperature and comes in the proper glassware.
What Is the Best Glass for Muscadet?
Sauvignon Blanc Glasses are great for Muscadet. Their bowls are big enough to let the citrus and green fruit aromas shine. But as their openings are relatively small, they won't overaerate the wine.
Which Is the Best Serving Temperature for Muscadet?
The wine should be cool when you drink them. The optimal serving temperature is between 48 and 52°F (9-11°C). Put the bottle into your regular fridge for about 30 to 45 minutes before opening it.
Should You Decant Muscadet?
Decanting Muscadet will not make it much better. But it might harm the wine because it warms up beyond the optimal serving temperature relatively quickly. Thus, you should not decant it. Swirling it in your glass a couple of times is absolutely sufficient.
HOW TO STORE MUSCADET
Always store your wines in a cool and dark place, for instance, in your basement. Make sure to shield them from sudden temperature changes, sunlight, and vibrating devices such as air conditioning. Also, keep them away from chemicals with aggressive smells.
When sealed with a cork, you should store your wines lying on their sides. In this position, the wine will keep the cork moist so it does not dry out and crumble. If your bottles have a screw cap, you can store them standing up as well.
Can Muscadet Wines Go Bad?
Like all white and red table wines, Muscadet can go off when mistreated. A broken cork or constant exposure to heat and sunlight can cause it to spoil. You can typically sense a vinegar-like smell when that happens.
How Long Does Muscadet Last When Open?
When you open a bottle, you should consume it within two to three days. Beyond that, the risk of going off increases dramatically. Make sure to reseal the bottle with the original cork or a reusable bottle stopper. Also, put it into your fridge (the regular one, not the wine fridge) to keep it cool.
Can You Age Muscadet?
You can absolutely age Muscadet wines. Especially wines aged on the lees ("sue Lie") have tremendous aging potential. You can keep some of them for 15 to 20 years, and they will constantly improve.
Wines that did not undergo bottle aging tend to have less aging potential. Typically, you can store them for up to three years after bottling.
MUSCADET FOOD PAIRING
As indicated before, Muscadet wines are very food-friendly. There are a variety of dishes that pair very well with this light wine, for instance:
Due to the proximity to the ocean, the most common pairing from the Loire Valley region is seafood. In particular, shellfish such as fresh oysters, shrimps, or mussels are excellent with acidic white wine. The same is true for light fish dishes, including herring, sole, or perch.
With its high acidity level, this French wine is a great palate cleanser. That makes it a fantastic match for spicy vegetables such as onions, stem cabbage, or celery. It also goes well with salads with acidic dressings such as vinaigrettes.
For the same reason, it is a good pairing for hot preparations of white meat. Think of spicy chicken dishes from Asian cuisine.
Finally, it is delicious with cheese. Soft cheeses, including Brie, Feta, and other goat cheeses, are good picks. Hard cheeses such as Havarti, Gouda, and Majorero and cheese-dominated meals like Swiss Fondue or Raclette work very well, too.
SHOPPING TIPS
Shopping for original Muscadet wine is more challenging than other wines because it does not follow the usual naming conventions. Most winemakers around the world put either their home region (f.e. Burgundy, Rioja, Barolo) or the grape varieties they use (f.e. Chardonnay, Pinot Noir, Merlot) on the bottle label.
Muscadet is neither a region name nor a varietal; it is just a name, and it is easy to confuse with other wine names such as Moscato, Muscat, or Moscatel. French wine laws recognize Muscadet as a wine appellation with AOC status, but only the most simple styles carry the label "Muscadet AOC". More expressive wines are named after one of the sub-appellations, for instance, "Muscadet Sèvre et Maine". So look out for these labels as they are reliable indicators for original wines from the Loire Valley.
Chereau Carre l'Oiseliniere Muscadet Sevre et Maine 2019
type: white, still, dry, Vintage
origin: France, Loire Valley
varietal: Melon de Bourgogne
alcohol: 12.0%
Louis Metaireau Muscadet Grand Mouton Sur Lie 2019
type: white, still, dry, Vintage
origin: France, Loire Valley
varietal: Melon de Bourgogne
alcohol: 12.0%
Pierre-Luc Bouchaud Pont Caffino Muscadet Sevre et Maine 2018
type: white, still, dry, Vintage
origin: France, Loire Valley
varietal: Melon de Bourgogne
alcohol: 12.0%
The good news is that the wines are quite affordable in the United States. Bottles from the three sub-appellations are available from 15 USD, including lee-aged styles. Even for the best wines, you rarely have to pay more than 30 USD.
FINAL WORDS
Muscadet wines and the Melon de Bourgogne grapes they are made from are somewhat underrated in the wine community. The wines from the Loire Valley have much to offer, especially for white wine lovers. So, if you are into light and dry whites, you definitely should try them.
Recent Posts