Wine makes every come-together better, whether you meet at a friend's house, in the park, or at the beach. But transporting your prestigious bottles can be challenging. Not only do you risk breaking them, but you might also harm them by exposing them to heat or sunlight. To ensure they arrive safely, let us discuss the best bags for safe wine bottle transport.
A wine bag is a container for safely transporting wine bottles. Typically, it has padded walls to protect bottles from shocks, and many models are insulated to keep the wine cool.
If you plan to transport wine bottles, you should make up your mind about your precise needs first. Ask yourself the following questions:
How many bottles do you need to transport?
How long will your trips be? Do you need a wine bag for backpacking, picnicking, or longer journeys?
Will you travel by plane, train, or car? Or will you walk?
Do you need to bring wine glasses and bottle openers as well?
Depending on your answers, some types of bags might be more or less helpful to you. Let us discuss them:
WHAT TO LOOK FOR IN WINE BOTTLE TRANSPORTATION BAGS?
You can judge wine bottle containers by several criteria. Depending on your needs, some might be more or less important to you.
Safety
When transporting wine bottles, safety is critical. You want to avoid shattering a precious bottle at all costs. Thus, you need a stable container. Most regular bags and backpacks are inappropriate for bottles and glassware because they are made from too thin fabric.
Bags for wine bottle transportation are made from more rigid materials. In the best case, they have padded walls and dividers or even a foam inlay to prevent bottles from damaging each other.
Temperature Control
Besides avoiding glass breakage, you also want to protect your bottles from heat and sunlight. Both can damage wine, particularly if you expose it over a more extended period. During travels, this risk is relatively low. Nevertheless, you should go for well-insulated containers to be safe.
A wine bag's fabric is one factor for temperature. The thicker it is, the better its insulation capacity. Special layers, for instance, from polyester, are even better for keeping wine chilled. Besides, a closure, preferably with a zipper, contributes to temperature control.
Capacity
For many occasions like a picnic, a bag that holds one wine bottle is fine. But in some cases, that is not enough space. Especially when visiting a winery or going on vacation to famous wine countries like France or Italy, you might want to bring home three, six, or even more bottles.
Many easy-to-carry totes or backpacks allow you to transport up to three wine bottles. If you need more space, you probably need to look out for a wine suitcase.
Extra Space
To enjoy a good sip in nature, you need to transport the wine bottle but also vessels and a bottle opener. Logically, it makes sense to get a wine bag that provides extra space for these accessories.
Most bottle containers do not have sufficient room for standard wine glasses. But many models have at least the space for two stemless vessels. In most cases, the glasses are included when you purchase the bag. The same is often true for bottle openers or foil cutters.
Comfort
Last but not least, a bag for wine bottle transportation should be comfortable to carry. Containers with short or no handles are acceptable for very short walks. But for longer journeys, they are not optimal, primarily if you transport more than one bottle at once. Bags with a shoulder sling are a better solution. And if you travel to crowded areas, a container with two backpack-style shoulder straps is more comfortable and safer. For larger quantities of bottles, you might even want to have a wine bag on wheels.
WHICH IS THE BEST WINE BAG FOR WINE BOTTLE TRANSPORT?
Which wine bag is best for you depends on the factors we have just discussed. Now, let us talk about the different bags for wine bottle transportation and when to use them.
Sling Bags for Wine Bottle Transport
Sling bags are the most basic transportation tools for wine bottles. You can simply put the sling (or slings) over your shoulder and transport your wines comfortably. Smaller versions hold one bottle, while bigger models can contain two or three bottles. Typically, the bags have padded walls to absorb shocks and decrease the breakage risk, even if you drop them accidentally. Additionally, many models are insulated, so they provide a basic level of temperature control. However, sling bags are open without closure, so heat and direct sunlight can affect your bottles somewhat.
Sling bags are affordable and useful for covering short distances. For example, if you visit your neighbors at the end of the street, a sling bag is the right transportation tool for you.
As its temperature control capacity is limited, you should not use it for extended journeys, though. Your wines might heat up too quickly. Also, sling bags are not the optimal choice when traveling by bus, train, or plane. Because they don't have closures, your bottles might fall out if you put them into a baggage compartment.
Picnic Tote
Picnic totes are advanced versions of sling bags. Some have a sling to put over your shoulder; others have two short handles so you can carry them like a purse. They are designed to keep one or two bottles of wine, together with useful accessories like bottle openers or foil cutters. Many models also come with stemless or short-stem wine glasses, so you have everything for a picnic at hand. Of course, picnic bags are made from robust materials, and they are stable enough to keep both glassware and bottles safe. With closure and usually insulation, they also contribute to keeping your wines cool.
As the name suggests, picnic totes are just perfect for a lovely day at the park or the beach. The insulated bag will keep your wine cool much longer than a sling bag. And with the extra space for outdoor-use glasses and bottle openers, you can transport everything you need to enjoy a good wine in nature. Be aware that a picnic tote with two bottles of wine has some weight. Carrying it over a longer distance, especially if it has only short handles, might be a bit exhausting.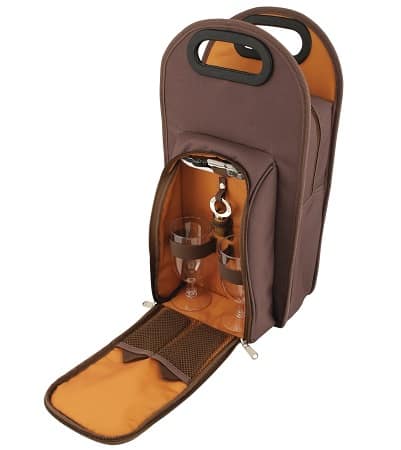 Backpacks for Wine Bottle Transport
The next level of wine bottle transportation is a backpack. It shares many features with picnic totes, including stable padding, insulation, and extra space for glassware and wine tools. Usually, you can transport at least two or three wine bottles with a wine backpack. Some models even have room for six bottles, and they have padded dividers, so the bottles don't bump against each other.
A wine backpack is a fantastic all-rounder. Like any other backpack, you can comfortably carry it over longer distances without getting exhausted. So if you want to go hiking or camping or attend crowded events like music festivals, it's the right choice for transporting wine bottles. And of course, you can also use it when going to the park or the beach. Even for trips by train or plane, a wine bag is just perfect because you can safely put them into a baggage compartment.
Suitcases for Wine Bottle Transport
Wine suitcases are premium containers for safely transporting wine bottles. As they have hard cases, they are the most stable among all wine bags. And their foam inlays that perfectly adjust to your bottles' shapes minimize the risk of breakage to zero. Another advantage of wine suitcases is their capacity. Smaller models hold three to six bottles, while bigger variations can carry up to 12. Some suitcases allow you to transport your wine bottles together with your clothes.
For travelers who want to bring some precious bottles home, a wine suitcase is a must-have accessory. It will protect your wines even when handled roughly at the airport. And because it has wheels, you can comfortably pull it instead of carrying it.
FINAL WORDS
There are many reasons for transporting wine bottles. And for each occasion and trip, there is a matching bag, tote, or suitcase. With the details from this article, you know all the alternatives available and can find the best bag for wine bottle transport that matches your needs. See the table below for a summary. Happy traveling!
| | | | | | |
| --- | --- | --- | --- | --- | --- |
| | OCCASION | INSULATION | CAPACITY | EXTRA SPACE | COMFORT |
| Sling Bags | short walks | okay | 1-2 Bottles | few models | okay |
| Picnic Totes | beach, park | good | 1-3 Bottles | most models | okay |
| Wine Backpacks | hiking, camping, festivals | excellent | 2-4 Bottles | most models | good |
| Wine Suitcases | extended journeys | excellent | 3-12 Bottles | some models | excellent |
Wine Bag Comparison
Recent Posts