Vintners, retailers, wine critics, wine bloggers – plenty of jobs connected to wine. They all require a significant level of wine knowledge. But there is one position that might be even more demanding: a sommelier.
A sommelier is a trained wine professional with in-depth knowledge of grapes and wines. Sommeliers know how to identify a wine's characteristics and origin, how to store it, and how to pair it with food. They often work in high-class hotels and restaurants, so they are experts in hospitality and customer service.
To understand a sommelier's job to its full extent, let's investigate the responsibilities and requirements in detail:
WHAT DOES THE TERM SOMMELIER MEAN?
Sommelier means wine steward or wine waiter. However, the job actually includes many more duties. A more precise translation might be cellarmaster which refers to a wine cellar.
The term derives from the French language, or more precisely, from Middle French. This version was spoken from the 14th to the early 17th century. The Middle French word "soumelier" described an employee handling and transporting supplies at a nobleman's estate. In the 17th century, the term's meaning was extended to all people who managed pantries and wine cellars in private households.
From the 19th century until today, the term "sommelier" has been used for male wine professionals with all the responsibilities we are about to discuss. Female professionals go by "sommelière".
As this job title is not protected, anyone can use it, regardless of education or work experience. And in the last years, many similar job titles for other beverage categories have popped up, such as:
beer
whiskey
vodka
coffee
olive oil
WHERE DO SOMMELIERS WORK?
As a sommelier, you can find work in the following industries:
hospitality (hotels and restaurants)
retail
vineyards
education
Most sommeliers work in the hospitality business. Luxury hotels and high-class restaurants hire them to provide excellent service for the wine lovers among their patrons. Other venues that might need a sommelier include country clubs, casinos, or cruise ships.
Sommeliers can work in retail, too. Some brick-and-mortar stores, as well as big online retailers, hire them to manage their wine inventory. The same might be true for big supermarket chains that sell food and beverages.
Some vineyards have estate sommeliers. They primarily execute marketing and sales tasks, like creating marketing materials, negotiating with potential buyers, and hosting tasting events on the estate.
Finally, a sommelier can find a job in education. As many wine enthusiasts want to learn more about their favorite beverage, wine tastings, classes, and seminars are in demand. With their wine expertise, sommeliers are the perfect hosts for these events.
WHAT DOES A SOMMELIER DO?
A sommelier has various tasks to do, and they are all connected to wine:
building the wine list
creating food and wine pairings
managing the wine portfolio
monitoring the financial aspects
providing advice to patrons
training staff
hosting wine events
publishing about wine
Let's discuss them in more detail.
Building the Wine List
One of the most critical tasks of sommeliers is creating a restaurant's (or hotel's) wine list. They try to find and buy wines that match their patrons' preferences. and depending on the variety of guests, it can be challenging to match the different tastes (and budgets). To master this task, a sommelier cooperates with wine producers and attends wine exhibitions and similar events to learn about new wines and the latest vintages.
Creating Food and Wine Pairings
To find the right wines, a sommelier also has to work closely with chefs and kitchen staff. Together, they discuss the menu and try to create delicious wine and food pairings. These discussions are the basis for producing the wine list.
Managing the Wine Portfolio
Besides finding new wines, sommeliers manage the existing wine portfolio. They administer the wine cellar and ensure proper storing conditions such as optimal temperature, light, and humidity. If necessary, they sort out wines that don't match the venue anymore. They also keep the wine menu up-to-date.
In some cases, sommeliers have oversight over all beverages, including beers, spirits, and non-alcoholic drinks.
Monitoring the Financial Aspects
The financial aspects of managing a wine portfolio usually belong to a sommelier's tasks, too. That includes negotiating purchasing prices, monitoring sales numbers, and reevaluating selling prices regularly.
Providing Advice to Patrons
In high-class restaurants, sommeliers offer their knowledge directly to patrons. They ask for the diners' food choice and their preferred wine characteristics. Based on this information, they recommend a wine from the venue's inventory.
Once the patrons make their choice, the sommelier presents the selected bottle to them, opens it, and lets them approve the wine.
Training Staff
If sommeliers do not work directly with customers, they are responsible for forwarding their wine expertise to their coworkers. They teach the waiters how to store, open, and present wine properly.
In addition, they enable them to advise patrons about wine characteristics and the best food and wine pairings.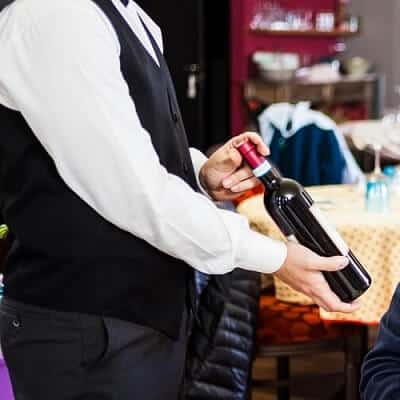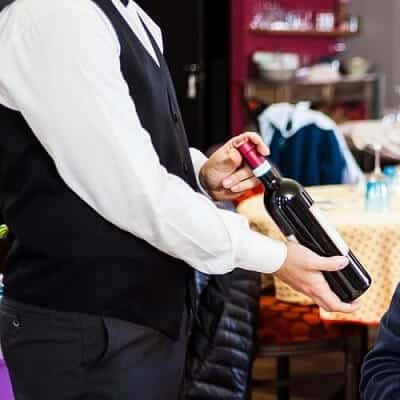 Hosting Wine Events
Some restaurants and hotels offer special events such as tastings or dinners to educate their patrons about wine. Logically, sommeliers play a major role in hosting these events. With their knowledge and experience, they can create fantastic wine events even for inexperienced guests.
Publishing About Wine
Sommeliers also engage in publishing content about wine. Some have their own wine blogs; others write for newspapers and magazines. They also collaborate with other experts to award prizes to outstanding wines. One of these prizes is the Sommeliers Choice Award.
THE WORK ENVIRONMENT OF A SOMMELIER
Sommeliers have a lot of different tasks, but not all of them are equally exciting. If you plan to become a wine professional, expect a daily routine with repetitive tasks day in and day out. Especially managing the wine inventory and monitoring finances are administrative tasks that are not very glamorous. Also, patrons and coworkers will ask you the same questions over and over again. On the other hand, the job comes with meeting new people, discovering new wines, and traveling to vineyards or wine fairs. And, of course, it includes a lot of eating and drinking.
Another aspect to consider is stress. Restaurants and hotels are recreational places for clients, but they can be quite hectic for the staff. That is In particular true for luxury venues that have extremely high standards (and very demanding patrons). So resilience to stress is key to being successful.
HOW TO BECOME A SOMMELIER?
Sommelier is not a protected job title like doctor or lawyer. So, in theory, sommeliers do not need to meet specific education requirements. Instead, they can learn everything they need to know while doing the job.
Nevertheless, several prestigious schools offer extensive sommelier training. And without visiting these schools, the hospitality industry's best jobs are probably out of reach for candidates.
The following institutions offer worldwide recognized training:
The CMS Training
Most of these institutions offer various types of courses that differ in extent and depth. For instance, the CMS –likely the most prestigious sommelier school– distinguishes four certifications:
Introductory Sommelier
Certified Sommelier
Advanced Sommelier
Master Sommelier
The introductory course provides basic information about wines, grape varieties, winemaking, wine and food pairing, and customer service. Only students who successfully passed the introductory course can enroll for the follow-up course.
In the Certified Sommelier course, students gain deeper and more profound knowledge about wine. By the end, they must take a written exam, pass a blind wine tasting, and prove their ability to serve customers properly.
With the Certified Sommelier certificate in their pockets, sommeliers can proceed to the advanced class, and after that, to the masterclass. These courses include in-depth expertise about wine appellations and how to distinguish them. Again, written tests, blind tasting, and practical service tests conclude the certifications.
Typically, candidates have extensive work experience in the hospitality industry before getting a certification. On average, certified sommeliers have between three and seven years of experience. Advanced and master sommeliers usually have worked in their profession for eight years or more before taking the exam.
How Much Does It Cost to Become a Sommelier?
These are the prices for the courses of the Court of Master Sommeliers:
| | | |
| --- | --- | --- |
| COURSE LEVEL | PRICE IN BRITISH POUNDS | PRICE IN US DOLLARS |
| Introductory Sommelier | 580 GBP | ca. 800 USD |
| Certified Sommelier | 245 GBP | ca. 335 USD |
| Advanced Sommelier | 795 GBP | ca. 1,090 USD |
| Master Sommelier | 780 GBP | ca. 1,070 USD |
Costs for CMS Courses
Classes by other organizations differ in price. They might also differ based on the location where you take the class. In any case, you need to consider the costs for travel and accommodation for the time of the course because they are not included in the price.
Besides that, would-be sommeliers must invest a lot of time and money to prepare for their exams. They travel to wine regions to visit vineyards and meet with vintners, attend conferences, and, sample many wines. These activities add significantly to education costs.
How Long Does It Take to Become a Sommelier?
The single CMS courses take between 1 and 7 days. Courses from other organizations typically are similarly long.
Besides taking the classes, candidates need to have sufficient work experience, though. For instance, a minimum of three years in a relevant job is needed to become a Master Sommelier according to CMS standards. As mentioned before, most students have much more experience by the time of the exam.
What It Needs to Be a Sommelier
The job of a sommelier requires various skills:
Theoretical knowledge about grapes, wines, winemaking, wine regions, wine laws, and wine and food pairings.
Trained taste buds and practical experience in distinguishing wines from each other and identifying their origin.
Communication and social skills to work with winemakers, chefs, waiters, and patrons. Patience is also a valuable skill when dealing with dissatisfied or rude guests.
Flexibility and the will to work evening hours, weekends, and bank holidays.
A basic understanding of business administration and the ability to negotiate with wine producers and retailers.
At least basic knowledge of languages such as French and Italian to read bottle labels.
HOW TO FIND A SOMMELIER JOB
The easiest way to find a sommelier job is to check out the website Sommelier-Jobs.com. It lists hundreds of relevant job openings from all over the world.
Besides, you should check out the websites of high-class hotels and restaurants. Especially hotel chains have portals that include job openings for all their venues in one place. Check out, for instance:
How Much Money Does a Sommelier Make?
The income of a sommelier ranges from 50,000 to 150,000 USD per year. It depends heavily on the level of experience. A very experienced master sommelier can make much more than that when working in luxury venues.
Of course, the location is an important factor as well. In Zurich, Monaco, or New York City, salaries are higher than in Rio de Janeiro or Mexico City.
The following table shows the average sommelier salary based on the certification.
| | |
| --- | --- |
| CERTIFICATION | AVERAGE INCOME IN US DOLLARS |
| Introductory Sommelier | 50,000 USD |
| Certified Sommelier | 65,000 USD |
| Advanced Sommelier | 75,000 USD |
| Master Sommelier | 150,000 USD |
Average Income of Sommeliers
Similar Jobs
If you are interested in a wine-related job, you should not only focus on openings for sommeliers. Many jobs with different names cover more or less the same responsibilities. And in fact, many certified sommelier work in precisely these jobs. Other entry-level positions are great for gaining work experience before taking the exam.
The position of a wine waiter (or wine steward) is a typical entry-level job. Like "normal" waiters, wine waiters focus on customer service and giving patrons advice and recommendations.
Tasting room managers focus on customer service, too. They oversee the tasting rooms of wineries that want to present their wines directly to customers. Besides, they are responsible for organizing events, instructing staff, and managing the wine inventory.
A wine director typically has all the responsibilities of a sommelier. That includes managing the wine inventory, creating the wine menu, educating staff, and hosting events. Serving patrons on the restaurant floor might not be part of the job necessarily. Nevertheless, a strong focus on customer service is essential for this job.
The responsibilities of a food and beverage manager are comparable to those of a wine director. But the focus is not on wine only. Instead, the job requires dealing with all types of food and beverages the venue sells.
FINAL WORDS
Undoubtedly, the sommelier job is an exciting position for every wine lover. But it is also very challenging as it requires many different skills and extensive wine knowledge. When you meet sommeliers in restaurants or hotels, keep that in mind. Be nice to them but do not hesitate to ask for their advice so you can benefit from their expertise.
Recent Posts