Fish is a controversial food. While some people don't like its soft texture and salty taste, others love it because it's lighter and often healthier than meat. One of the most popular types of fish is salmon. And as it's also a very versatile sea creature, it can be prepared in numerous ways and served with many different types of wine. But which wine and salmon pairings are best?
The best wine to pair with salmon is a white wine with a medium or full body. To stand the oily rich flesh, it needs a decent level of acidity. Oaked Chardonnay and Riesling are good matches. Their citrus flavors complement most salmon dishes.
Depending on preparation and seasoning, other wines, including reds and sparkling wines can be great alternatives. So let's discuss the best wine and salmon pairings.
What Is Salmon and How Does It Taste?
Salmon is a saltwater fish that is native to the Pacific as well as the Atlantic ocean. It's fished from the wild, especially in Alaska or bred in fish farms, for instance, in Norway or Chile. With its oily pink flesh and its rich and refreshing taste, it differs significantly from other seafood. It might remind you of light meat rather than fish. That's why many people, who don't like fish in general, enjoy eating salmon.
Another fact that makes salmon popular worldwide is that it's rich in Omega-3 fatty acids and Vitamin D. Omega-3 acids are good for the heart, and Vitamin D helps prevent diseases like cancer and diabetes. So salmon is actually great for your health.
As it's a very versatile fish, you can prepare it in numerous ways. You can poach, grill, bake, or smoke it. You can serve it with a creamy sauce or season it with herbs and a bit of lemon juice. Besides, it's common to eat salmon raw as tartare or sushi. Depending on the preparation method and the seasoning, you can create very different culinary experiences.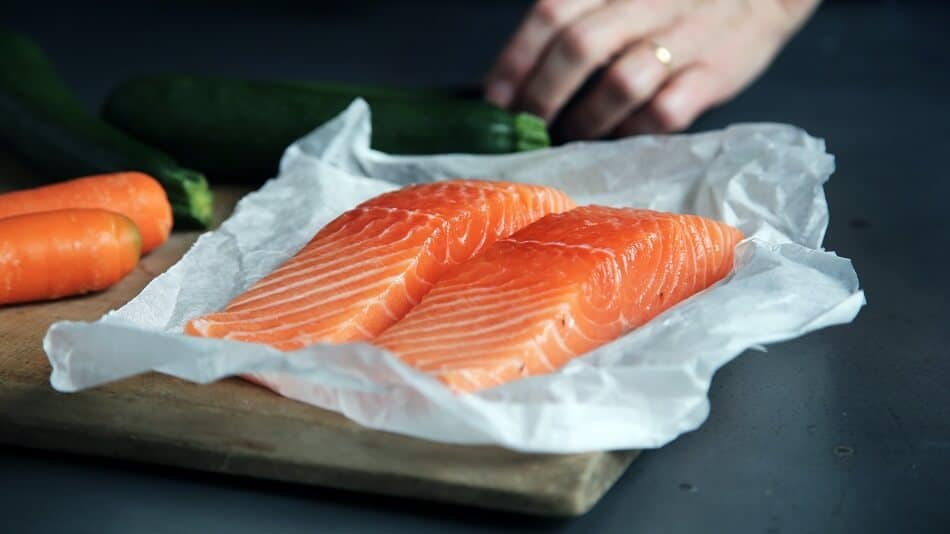 Which Wine and Salmon Pairings Work Best?
The general rules for pairing food and wines are pretty simple: Red wines go with red meat, and white wines go with white meat. Strictly speaking, fish isn't meat, but for the sake of simplicity, it's usually put into the white meat category. And it's common to combine fish dishes with light and dry white wines.
As mentioned before, salmon is different, though. Due to its rich flavor, it can easily overpower light-bodied wines. Thus, medium- or full-bodied wines that have intense and complex flavors are better matches. Oaked Chardonnay, White Burgundy, Marsanne, or Riesling have these characteristics.
Even red wines can be great matches for salmon. It's essential to go for low-tannin wines, though. Sharp, crisp tannins can cause an unpleasant metallic taste when combined with the oily, salty flesh of salmon.
No matter if you prefer whites or reds, you should take the cooking method, the seasoning, and the side dishes into consideration before making your choice. With preparation and the use of spices, you can create very different culinary experiences that might require another wine pairing. Let's have a closer look at specific wine and salmon matches.
Raw Salmon and Wine
If you serve raw salmon, for instance, tartare, sushi, sashimi, or gravlax, pick a crispy white wine with citrus flavors and good acidity. Try a Grüner Veltliner from Austria or a Sauvignon Blanc from the Sancerre region in France.
In case you like rosé wines, try one from the Loire Valley in France. Especially those made with the Saignée Method from the Chinon appellation are great matches. They are bolder than other rosé wines, making them perfect for fantastic wine and salmon pairings.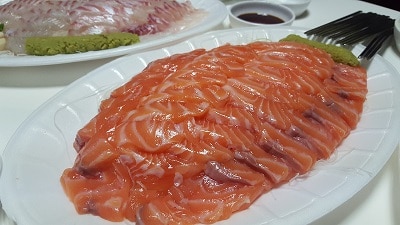 Plate of Raw Seasoned Salmon
Another alternative to pair Asian-style salmon and wine is Italian Pinot Grigio. These bottles are worth opening:
Santa Margherita Pinot Grigio 2020
type: white, still, dry, Vintage
origin: Italy,

Trentino-Alto Adige

varietal: Pinot Gris
alcohol: 12.5%
Tiefenbrunner Pinot Grigio 2019
type: white, still, dry, Vintage
origin: Italy,

Trentino-Alto Adige

varietal: Pinot Gris
alcohol: 12.5%
type: white, still, dry, Vintage
origin: Italy,

Friuli-Venezia Giulia

varietal: Pinot Gris
alcohol: 13.0%
Final Words
No matter which style of preparing and seasoning you choose, you'll find multiple wine and salmon pairings that work fine. In the end, the perfect pairing is a question of personal preference. Thus, you should try different styles to find out which pairing you like best. And maybe it makes sense to offer your guests more than one option to choose from when hosting your next salmon dinner party.