The ancient Greek philosopher Aristoteles is supposed to have said that "the whole thing is more than the sum of its parts". For cocktails, this is definitely true. They are, for sure, better than their single ingredients. The first drinks that come to mind when thinking about cocktails might be Tequila Sunrise, Gin Mule, or other mixtures with spirits. But actually, you can also use wine to make delicious cocktails. And if you like white wine, you should try one of these white wine cocktails:
Before we get into the recipes, let us talk about how to make a great cocktail in general.
WHAT IS A COCKTAIL?
A cocktail is a beverage mixed with at least two ingredients. Typically, one or more of these ingredients are alcoholic, for instance, a spirit such as tequila, gin, vodka, or whiskey. They are mixed with non-alcoholic drinks such as cola, lemonade, juices, soda water, or energy drinks. Many cocktails also contain fruits as ingredients or garnishments.
Wine cocktails might sound odd at first because wine is a complex beverage even when served pure. Many wine lovers might consider diluting it with other drinks an unforgivable sin. And for most old wines, that is a reasonable thought.
Nevertheless, white wine cocktails can be delicious. And in particular, when you spend a summer day in the garden or by the pool, they can be a light and refreshing alternative to pure wine.
In this article, you will discover some of the best white wine cocktails you can make at home. But first, let us talk about some general tips regarding cocktail preparation, glassware, and ingredients. If you know our article about red wine cocktails, you might already have read them, so feel free to skip and go directly to the recipes.
HOW TO MAKE GREAT WHITE WINE COCKTAILS
To make excellent white wine cocktails, you need the proper glasses and tools and, of course, the right ingredients.
The Right Tools to Make Wine Cocktails
While you can prepare a few cocktails with just a glass and a spoon for stirring, many require more tools. These are the basics that every cocktail fan should own:
Shaker with a Lid: To properly mix ingredients, a shaker with a leak-proof lid is a must-have. Typically, it is made from stainless steel.
Measuring Cups in Different Sizes: You must be able to measure servings as small as a quarter of a liquid ounce. Thus, measuring cups are essential for combining the ingredients correctly. A tablespoon is helpful, too.
Mesh Strainer: In some cases, it is necessary to remove solid parts like ice from the drink after mixing and before serving it. A mesh strainer is the right tool for this purpose. Be aware that the strainer should match glasses with a wide bowl. So a big one is better than a small one, given the mesh is fine enough.
Knife and Cutting Board: As fruits are common ingredients (and decorations) for cocktails, you need the proper equipment for slicing or dicing them.
The Right Glasses for Serving Wine Cocktails
Besides the proper tools, you also need the right glasses when serving cocktails. Wine glasses are okay for some white wine cocktails. But for others, you need different glasses. These are the most common cocktail vessels:
Rocks Glass: These stemless glasses have broad, round bases. They are very common for whiskey, vodka, but also water.
Long Drink Glass: The long drink glass is significantly taller but has a smaller base than the rocks glass.
Martini Glass: A Martini glass is a widely known cocktail glass. You probably have seen James Bond slurping a drink from it in one of the 007 movies. It has a long stem and a wide, cone-shaped bowl.
Coupe Glass: The coupe glass also has a wide bowl. But in contrast to the Martini glass, it is rounded, and its stem is shorter. Couple glasses are often used to serve Champagne, and some hosts even build pyramids from them.
Pitcher: In some cases, preparing just one serving of a cocktail does not make sense. To serve a group of guests, a pitcher with a volume of about 1.5 to 2 liters is a better pick.
The Right Ingredients for Cocktails
Finally, you need the right ingredients to make a good cocktail. Follow these rules for the best results:
Decent wine is the base for a good white wine cocktail. Do not go for high-quality wines, though. They are too precious to be mixed into cocktails, so better enjoy them purely.
The same is valid for spirits such as whiskey, rum, or vodka.
You can make some ingredients like simple syrup yourself. Usually, they offer a better, more natural flavor than industrial products.
Use fresh fruits and freshly squeezed juices whenever possible.
Self-made ice from filtered spring water is typically better than ice you buy in the supermarket.
THE BEST WHITE WINE COCKTAIL RECIPES
Now that we have clarified the basics let us discuss some of the most delicious white wine cocktails. Of course, there are hundreds more. But for the start, these recipes are worth trying.
White Wine Spritzer
With just two ingredients, the White Wine Spritzer might be the easiest white wine cocktail you can make. It is a bit lighter than pure wine, so it is a great beverage to enjoy early in the day without getting too tipsy. Consider serving it, for instance, with brunch.
Ingredients
3 oz white wine
1 oz cold soda water
ice cubes
lime or orange slices
Instructions
Just like pure white wine, you should serve the White Wine Spritzer in a white wine glass. Here is how to prepare it:
Fill the ice cubes into a white wine glass.
Add one or two lime slices.
Pour the wine in.
Top it with soda water.
Stir it properly.
Decorate the glass with a lime slice.
White Wine Margarita
There is no great party without a Margarita. But the classical Margarita, made with tequila, might be too strong for some people. For everyone who prefers a lighter cocktail, a White Wine Margarita might be a delicious alternative. With its fresh citrus aromas, it is the perfect drink for an outdoor summer party.
Ingredients
1 bottle of dry white wine
4 oz triple sec (alternative: orange liqueur)
2 oz lemon juice
4 oz lime juice
2 tablespoons orange juice concentrate
¼ cup sugar
ice cubes
salt and lime slices for decoration
Instructions
Just like other Margarita recipes, White Wine Margarita is a typical party drink. Thus, preparing it in a pitcher of at least 1.5 liters makes sense. To serve it, prepare rocks glasses. Here are the steps to make it:
Fill the juices, the concentrate, and the sugar into the pitcher. Stir until the sugar is dissolved completely.
Add the wine and the triple sec, and stir again.
Prepare rocks glasses by salting their rims.
When serving, fill the glass with ice cubes and pour the White Wine Margarita in.
Garnish the glass with a lime slice.
Moscato Margarita
There is another option for all sweet wine lovers to alternate the original Margarita recipes: Moscato Margarita. The light Italian white wine's sweetness and sour and tart citrus taste create an awesome contrast. While still, Moscato is perfect for this drink. But you can also add some fizziness by using a semi-sparkling Moscato d'Asti.
Ingredients
6 oz sweet Moscato wine (still or sparkling)
12 oz lime juice
ice cubes
salt and lime slices for decoration
Instructions
Again, preparing a Margarita in a pitcher is best, so you can make enough to please all of your guests. Serve it in rocks glasses or long drink glasses. Follow these steps to prepare the Moscato Margarita:
Fill the wine and the lime juice into the pitcher. Stir properly.
Top the mix with ice cubes until the pitcher is full.
Prepare glasses by salting their rims.
Pour the Margarita into the glasses.
Decorate the glasses' rims with lime slices.
Pineapple Sangria
Speaking of Moscato, we should also talk about Pineapple Sangria. Just like the Moscato Margarita, it is made with sweet Moscato wine. But in addition to citrus flavors, it also has tropical aromas such as coconut and pineapple, making it the perfect drink for a day by the pool.
Ingredients
1 bottle of sweet Moscato wine (still or sparkling)
2 oz cup triple sec
8 oz coconut rum
½ oz pineapple juice
½ oz orange juice
1 orange
1 lemon
a handful of strawberries
ice cubes
additional oranges and lemons for decoration
Instructions
For the Pineapple Sangria, use a pitcher, too, so you are ready to serve the entire party crowd. Use long drink glasses for serving. Here are the preparation instructions:
Fill the pitcher with the wine, the rum, the triple sec, and the juices.
Slice both the orange and the lemon. Cut the strawberries in half.
Add the fruits to the pitcher.
Stir the mix properly.
Fill the glasses with ice cubes and pour the Pineapple Sangria in.
Decorate the glasses with fruit slices.
Grigio Gorl
Italy is one of the world's most prominent wine countries. And Pinot Grigio belongs to wine lovers' favorite varieties. So why not use this great Italian wine to mix it into a similarly great cocktail? The Grigio Gorl is a delicious flavor mix based on Pinot Grigio. It combines sour aromas from citrus fruits, sweetness from syrup, and slightly earthy notes from tequila.
Ingredients
2 oz Pinot Grigio wine
½ oz tequila
1 oz grapefruit juice
1 oz lime juice
¼ oz simple syrup
2 oz soda water
1 grapefruit wheel
ice cubes
Instructions
The best practice is to serve the Grigio Gorl in a rock glass. To prepare it, you need a shaker. Follow these steps:
Mix the Pinot Grigio wine, the tequila, the two juices, and the syrup in a shaker.
Place the grapefruit wheel in a rocks glass together with ice cubes.
Pour the mix into the glass.
Top it with club soda and stir the drink.
Pinot Grigio Mimosa
You might already have tried the Mimosa cocktail, which is traditionally made with Champagne. But did you know that you can also make it with still white wine? The formerly mentioned Pinot Grigio is an excellent ingredient for this purpose. So let's learn how to make the delicious Pinot Grigio Mimosa.
Ingredients
8 oz Pinot Grigio wine
2 oz orange juice
¼ oz soda water
ice cubes
orange peel for decoration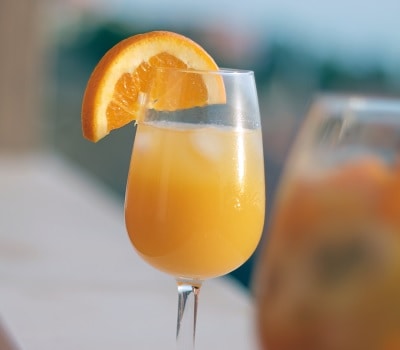 Instructions
Serve your Pinot Grigio Mimosa in a white wine glass or -for the fancy look- in a champagne flute. Be aware that a flute has a lower capacity, so use only half of all ingredients. Here is how to prepare the Pinot Grigio Mimosa:
Fill some ice cubes into a glass.
Pour the wine and the orange juice in.
Top it with soda water.
Stir the mix carefully.
Decorate the glass with a piece of twisted orange peel.
Watermelon Wine Cooler
Another popular white wine is Sauvignon Blanc. Wine lovers admire it for its zesty acidity, its fruity aromas, and its dryness. These characteristics make it a great ingredient for a fruity cocktail like the Watermelon Wine Cooler. Make sure to pick a New World Sauvignon Blanc with citrus and tropical fruit flavors. Many wines from Australia or New Zealand provide these aromas.
Ingredients
1 oz Sauvignon Blanc wine
1 oz vodka
1 oz watermelon juice
½ oz lemon juice
1 oz simple syrup
soda water
crushed ice
ice cubes
Instructions
To mix the Watermelon Wine Cooler, you need a shaker. The best glass to serve it is a long drink glass. Here are the instructions to make a Watermelon Wine Cooler:
Fill all ingredients into the shaker. Depending on the amount of water you use, the drink will be stronger or lighter.
Add crushed ice.
Shake the mix until you can feel that the shaker gets cold.
Fill a long drink glass with ice.
Strain the drink into the glass.
Chardonnay al Fresco
You cannot really create a list of great white wine cocktails without a Chardonnay, can you? So let us talk about Chardonnay al Fresco. With a refreshing mix of sour and sweet aromas, it is another light cocktail that is perfect for your next party. An unoaked Chardonnay from a New World wine country is the right choice to make Chardonnay al Fresco.
Ingredients
4 oz Chardonnay wine
1 oz simple syrup
1 oz lime juice
¼ cucumber
crushed ice
lime and cucumber slices for decoration
Instructions
The Chardonnay al Fresco typically comes in a rocks glass, but it also looks great in a Martini or coupe glass. To prepare it, you need a shaker. These are the steps to make it:
Peel the cucumber and cut it into small pieces.
Fill all ingredients into the shaker.
Squish the cucumber pieces to release their juice.
Add crushed ice.
Shake the mix until you can feel that the shaker gets cold.
Strain the cocktail into glasses. Leave the ice and the cucumber slices in the shaker.
Decorate the glass with a lime slice and a thin cucumber slice.
Chardonnay Cantaloupe Sangria
As so many people love Chardonnay, let us add another cocktail recipe based on this great white wine: the Chardonnay Cantaloupe Sangria. Cantaloupe melons are deliciously sweet tropical fruits. And together with a zesty Chardonnay, they create a fabulous holiday cocktail that is just perfect for a day at the beach.
Ingredients
1 bottle of Chardonnay wine
8 oz sparkling water
1 cantaloupe melon (about 2 pounds)
Instructions
As you might have guessed from the ingredients list, you should use a pitcher to make the Chardonnay Cantaloupe Sangria. Besides, you need a blender and long drink glasses to serve it. Follow these steps to prepare the cocktail:
Cut half of the cantaloupe into bite-sized pieces.
Slice the other half and puree it in a blender.
Fill the melon pieces, the puree, and the Chardonnay wine into a pitcher. Stir the mix slowly.
Put the pitcher into the refrigerator for about 4 hours.
Pour the sparkling water into the pitcher. It is best to do it successively in small portions to optimize the taste (and alcohol strength). Stir again.
Serve the cocktail in long drink glasses while still chilled.
FINAL WORDS
Every white wine lover should know the delicious white wine cocktails we discussed in this article. These lighter alternatives to wine are ideal for all types of occasions, from brunches to pool and garden parties. Find out which white wine cocktail is your favorite.
Recent Posts